By 2021, WordPress hit a new milestone: It powered 39.5% of the world's websites, according to Search Engine Journal. This is up from 35% just one year prior. With such a strong hold on the market (Drupal and Squarespace only power 1.5% of websites each), you are likely one of the businesses relying on WordPress to run their site. But are you well-versed in the best WordPress SEO plugins to optimize your domain?
You already know how critical great SEO is to your business, so don't leave your rank to chance. Take advantage of the amazing SEO tools available for use with WordPress.
In this article, we'll cover plugins that tackle:
All-in-One WordPress SEO Plugins
These plugins cover the bases for your WordPress needs.
Yoast SEO and Yoast SEO Premium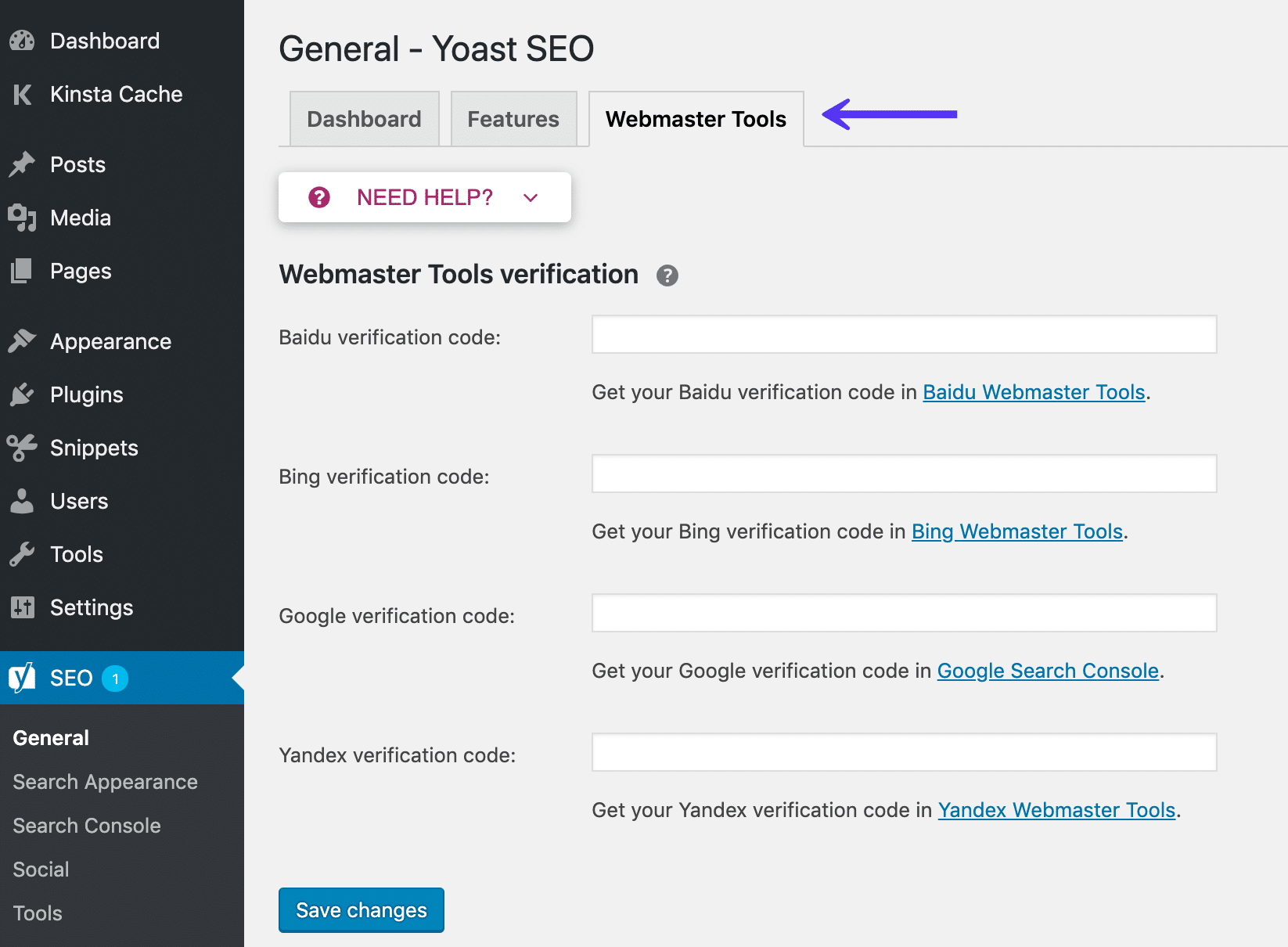 Yoast SEO is widely considered to be the best WordPress SEO Plugin
Yoast is widely renowned as the best WordPress SEO plugin, and for good reason. It boasts a high rating of 4.8 stars from almost 28,000 users and more than five million active installs. Yoast lets you address SEO issues in multiple ways, and you can target your settings both locally and globally.
This plugin lets you do a lot, like:
Create and edit sitemaps automatically
Edit meta descriptions, SEO titles and more
Analyze your content at a deeper level for actionable optimization opportunities
Use Google auto suggest for keywords
Make sure things are redirecting properly
Optimize your content for social media
That's just to name a few important functions. Definitely consider upgrading and paying for the Yoast Premium subscription if you can swing it. This version offers guidance on internal linking, schema and local SEO, too.
Pros: User-friendly, full SEO evaluation, premium options
Cons: Default options may not be SEO best practices, over-density of features may intimidate some users
Rank Math
Which SEO plugin is best for WordPress? Rank Math is up there.
With a free and pro version, Rank Math has managed to climb its way to the top of the SEO pack. It's super modern and offers Google Analytics integration, which could be a game changer for some businesses. The rank tracker keeps you up to date with how you're faring against the competition.
You can get ranking keywords for post and an advanced schema generator, too (including schema markup validation).
Pros: Option to import settings from other SEO plugins, lightweight and doesn't negatively impact site speed, Google Search Console integration
Cons: Cannot import from Rank math to other WordPress SEO plugins
All in One SEO Pack
SEO software for WordPress: All in One SEO
All-in-One is fairly similar to Yoast. It earns 4.5 stars out of 5 from around 1548 ratings and has more than two million active installations. All in One has many of the same options, but its overall design and style favors users with less interest in controlling the details of their site. If you want the basic Yoast tools but don't feel the need to configure every little aspect of your site, this may be a great option.
Some of All in One's notable features are:
It's user-friendly, even for beginners
It allows you to set descriptions, titles and other significant markers for pages and posts
It provides webmaster verification for various search engines
It's compatible with WordPress eCommerce websites
You can edit your robots.txt and .htaccess files without getting involved in an overly complicated process
Pros: User-friendly, ability to add additional fields in a post, activate functionality only when needed
Cons: No breadcrumbs navigation or importing data from Google Search Console
Migration Tools
Looking to move your site without losing any valuable data? WordPress migration plugins do just that. Sure, you can rely on migration with your host. But if you have a lot of information that you really don't want to lose, why take the chance?
Duplicator
Duplicator migration plugin for WordPress
Duplicator's tagline is "migrations and backups made easy" and that's accurate. If anything, a 4.9 out of 5 star rating and more than one million active installations is proof. One of their biggest perks is the idea of zero downtime, meaning you can migrate and get back to scoring sales or leads in no time. You can bundle the site for reuse or distribution, plus you can do it all without once having to use import/export SQL scripts. It really is the bee's knees.
Pros: Manages migration, schedules or accesses automatic backups, remote storage, multi-site support
Cons: Can be difficult for beginners, the paid option has better support
Migrate Guru
Migrate Guru is a free SEO plugin for WordPress
Another migration plugin option is Migrate Guru. It's slightly less popular than Duplicator, but that's mostly because it's newer. It has 4.9 stars and more than 50,000 active installations to its name. This tool is designed with larger sites in mind, so you'll definitely want to prioritize it if your site is on the bigger side (up to 200 GB). Oftentimes, migrations for larger sites fail because there are server import limits on the live site, but Migrate Guru combats that.
Pros: Supports basically all hosting companies, external back server usage, works for larger sites and multi-site networks
Cons: Keep in mind that Migrate Guru doesn't support local host migrations or migrations of multi-site network subsites to a different domain.
Internal Links and Link Quality
Aside from Yoast Premium, these WordPress plugins help optimize your internal linking strategy.
Link Whisper
Link Whisper WordPress SEO plugin for internal linking
Link Whisper really does its job well. it works by suggesting internal links based on contextual clues. The aim here is to help readers find other content on your site easier. Plus, Google takes note of your improved linking structure and rewards your site in the rankings.
The best part about this plugin is the automated feature. As you write, you get link suggestions automatically. There are also manual features, but this really helps streamline the process. Premium features like a broken link checker and cross-site linking suggestions also help tons.
Pros: User-friendly, instant and relevant link suggestions, detailed reports
Cons: No suggestions for internal links
Internal Link Juicer
Internal Link Juicer is a smart free SEO plugin for WordPress
This free SEO plugin for WordPress is a decent alternative for those who can't shell out for a subscription just yet. If you want to upgrade, there's always the option of going for Internal Link Juicer Pro. But in the meantime, you can diversify your anchor texts, set linking to happen automatically, and report linking structures for future reference.
Pros: Easy link set up, can open links in an external tab
Cons: You have to add keywords for posts one at a time
Page Loading
Page speed has only increased in importance for search engine results page ranking. It's part of Google's core web vitals and it's not going anywhere.
WP Rocket
WP Rocket helps improve your site's performance, including page loading
With how much it can improve your site speed, WP Rocket gets its name earnestly. Plus, it's beginner friendly, which means you don't have to familiarize yourself with all the caching terminology to get started. It's caching through automated optimization. Some of the optional features are also super cool, including lady image loading (or loading images as people scroll through the page).
Pros: Fast, simple, easy for developers to employ
Cons: Premium pricing, be careful trying to change settings without consulting your dev
W3 Total Cache
W3 Total Cache is still super effective for page loading speed
Since page loading time is part of the search engineer ranking calculation—not to mention the customer experience—a caching plugin like this one can improve your SEO. For every page on your site, W3 Total Cache creates a static HTML page so loading time isn't a issue. It also provides browser caching, compression and minification for CSS and Javascript. This plugin is popular, with more than a million users, and is rated 4.4 by more than 4,760 users.
Pros: Desktop and browser caching, CSS and HTML minimizing, JS and CSS combining, GZip compression
Cons: No database optimization or lazy image loading
Best WordPress SEO Plugin for Local SEO
What about local businesses who are trying to rank in their region? This SEO software for WordPress does the trick.
WP Google Maps
WP Google Maps for local SEO
Location is a huge part of the decision-making process for local business patrons.
To cater to that, WP Google Maps is a widget that shows up on your site to display a real map of your area. You can use this plugin to make it easier for people to find you and convince them to make the drive.
Pros: Location tools, markers, themes and importing
Cons: Might be a pricey feature for some businesses
Spam Plugins
I don't even need to tell you that spam on your website is unwelcome. These plugins target comments and content that have malicious intent.
Titan Anti-spam & Security
The Titan Anti-spam plugin covers your WordPress site from start to finish
The Titan Anti-spam & Security plugin banner says it all. Capabilities include a malware scanner, real-time IP blacklist, two-factor authentication, site backup and more.
For websites with blogs, one of the most useful features is comment spam avoidance. If your comments are set to "no follow" then spam comments don't directly impact your spam score. However, it can still harm your ranking, according to Google. And what Google says goes.
Pros: 2FA and site backup
Cons: Might miss some spam dpeending on how much you get
Akismet
The Akismet WordPress plugin is still highly rated for combatting spam
It's not surprising that Akismet is so highly rated—at 4.7 out of 5 stars with more than five million active installations. Akismet is one of the best spam protection tools in the WordPress universe, moving most of your spam comments out of your way. Better still, you can choose from a few different packages to find the solution that works for your business.
Pros: Low pricing options and this plugin has its own spam filtering algorithm!
Cons: Any formerly blocked commenter automatically gets blocked if they try to comment again
Best WordPress SEO Plugin for Social Media
Revive Old Posts
The Revive Old Posts WordPress plugin brings longevity to your SEO
Content updates and refreshes are now considered one of the best ways to keep your blog or social media profile relevant. Revive Old Posts helps to garner traffic to older posts on your blog and profiles. It can update hashtags automatically and re-share old posts on social. This product of Revive Social makes total sense for businesses seeking social optimization.
Pros: Quick and on-point support
Cons: The free version might not provide the support you need, and the paid version is pricey
Spotlight
Spotlight helps you share your IG feed with your site users.
Got a beautiful Instagram feed that you don't want to go to waste? Spotlight displays the recent part of your live IG feed right on your website. It's responsive, which means it'll update your feed as you do. You can also style it to fit your site's aesthetic. Opt for Spotlight PRO and you can filter out certain posts from your feed for additional curation.
Pros: You can import multiple feeds and they're completely customizable
Cons: Some Spotlight PRO features are still being developed
Social Warfare
How the Social Warfare WordPress plugin works
Have you ever read a blog that included a tweetable quote? Then you may be familiar with Social Warfare. This plugin turns regular content into something that's interactive and responsive. You'll increase your chances of getting social mentions and user-generated content.
Pros: Modern design, click-to-tweet feature, Google Analytics tracking
Cons: You might encounter a conflict with other plugins
Security
Let's talk security. How can you make it easier to manage? This plugin.
Sucuri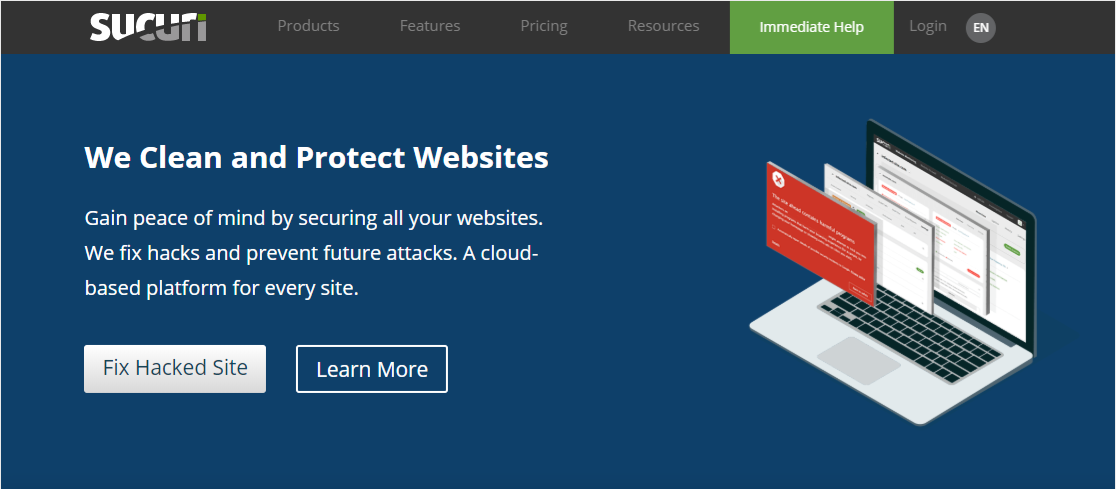 Sucuri still ranks as the best security WordPress plugin for your SEO site
Website security should be one of your top priorities, but many business owners don't manage their security very well. This all-in-one security plugin is enough for most websites on WP and handles both your firewall and malware scanning. It has really grown in popularity over the years and is currently used by more than 800,000 site managers. Key features include activity auditing, file integrity monitoring, remote malware scanning and security hardening.
Pros: Comprehensive, secure, high-quality support team
Cons: Pricing and ease of use could be optimized
Image Optimization SEO Software for WordPress
The details matter in SEO. Here are plugins that streamline the image optimization process.
Media File Renamer
Media File Renamer does the leg work for image name optimization
Because search engines use image file names your images should be named right for every page and post. This isn't always easy in WordPress; you have to download the file, rename it, upload it and delete earlier versions. With this plugin you can change media file names from the WordPress backend directly and will even update your links with the file. Media File Renamer is rated 4.6 stars with more than 40,000 active installations under its belt.
Pros: Does its job well
Cons: A one-trick pony
EWWW Image Optimizer
EWWW Image Optimizer by Exactly WWW has improved over the years and is a good plugin to have in your pocket
This plugin automatically optimizes any images you upload to WP. It functions a lot like WP Smush (which uses lazy image loading to optimize and compress images). However, It can also reduce the file sizes for images already on the site in bulk. Optional lossy optimization is also offered by EWWW Image Optimizer. This can result in a poorer image quality but means more space is freed up since it discards part of the image data to leave you with a smaller file. EWWW has 4.7 stars out of 5, and more than 800,000 active users currently have it installed.
Pros: Offers optimization for multiple image types, no file size or number restrictions, unlimited compressions in free version
Cons: Might negatively impact your server if it's not powerful and you're dealing with a large amount of images
Analytics and Reports
Reporting will help you improve your site's functionality over time. It will also help you build ranking dominance for SEO.
MonsterInsights

MonsterInsights was born of Yoast, so you know it's good
Formerly Google Analytics by Yoast, the MonsterInsights tool delivers detailed reports about your visitor's demographics. You can also figure out how they found your website, which keywords they used to discover it and what actions they took while on your site. If you're in Europe, you can even get the GDPR-integrated version to ensure you're sticking to data privacy regulations.
Pros: Customizable and simple to use, no third-party ac counts, report importing and exporting
Cons: Limited free version and pricey paid version
WP Statistics
WP Statistics WordPress SEO Plugin
If you're specifically looking to track redirects from a full range of search engines, then WP Statistics is the place to be. From visitor data records to visual statistics, you'll have plenty of research to do with as you please. Premium users get real-time stats and more advanced reporting to assist in their efforts of understanding target audiences.
Pros: Comprehensive statistical presentations that really stacks up against Google itself
Cons: WordPress updates might negatively impact this plugin's compatibiilty
Broken Link WordPress SEO Plugins
No one wants a broken link. These plugins have stood the test of time.
Broken Link Checker

Broken Link Checker for WordPress
Broken Link Checker scans your site including all comments, images, pages and posts for broken links that irritate your visitors and hurt you in search engine results. You can even edit broken links it detects without manually editing your content right from the plugin's page. It also works for both internal and external links, meaning you'll keep your internal linking strategy on lock while also maintaining your site's backlinks.
Pros: High-quality user interface and experience
Cons: Can have hiccups with URLs
Redirection
Redirection plugin for WordPress SEO
This plugin also deals with the broken link problem. Redirection monitors your site for instances of visitors hitting broken links and provides 301 redirects for them. This eliminates the 404 error page and shows the search engines where the content went, maintaining your rank. It automatically sets up these redirects and gives you statistics about these activities. Basically, Redirection has one job, and it does it well.
Pros: Works for 301 redirects, 404 errors and more
Cons: Can have hiccups with redirecting URLs
The Bottom Line on Which SEO Plugin Is Best for WordPress

Plugins are there for a reason. There's no need to choose the best of the best WordPress SEO plugin and stick with just one. Instead, you can collect a group of plugins that make running and optimizing a website easier.