You're getting tons of leads, but are you getting the RIGHT leads?
In today's post, I'll go over everything you need to know about online lead generation.
What We'll Cover:
Bringing in new leads is bread and butter of what we do – and it also happens to be the thing that clients struggle with the most. It's not easy to put together a lead generation business model.
Because frankly, it's hard work.
So I'm digging in and giving you the dirt. Here's what you really need to know about online lead generation.
Here is Ignite Visibility's traffic growth.

First, What is Online Lead Generation
What is lead generation?
Everyone knows they need to generate leads online. The problem? Effectively executing a lead generation campaign.
Companies with mature lead generation strategies achieve 133% more revenue than companies without healthy lead gen strategies.
63% of marketers say generating traffic and leads is their top challenge. (HubSpot, 2017)
Marketers will spend $201 billion digital lead generation by 2023.
So yes, lead generation is a priority for any lead gen business. And even if it's not going great, marketers are still willing to spend money on it.
But they still need to know how to generate leads online.
Being aware of the following will help make sure you put those dollars to good use.
Check out this webinar to answer the question: "What is lead generation?"
Watch A Webinar To Understand How Digital Works In 2019


Paid Advertising for Online Lead Generation
Want to know how to generate leads online in a hurry? Paid ads.
Google AdWords, in particular, is the fastest way to get leads online.
Here's the dirt:
For Google Ads to work, you need great ads and a great website.
Even if you're not in the lead generation business, you simply can't phone in an effective Google Ads campaign.
The most important elements?
The headline, lead image, and proper keyword selection.
Make sure you've done your keyword research with tools like Google Keyword Planner.
And when it comes to the creative elements, test and test again – this includes your website.
AdWords can be expensive.
Any lead generation business owner will tell you that the average cost-per-click (CPA) in Google Ads across all industries is between $1 and $2 on the search network and under $1 on the display network.
But unfortunately, that number can vary widely depending on your industry and keyword competition.
While you can control your maximum CPC bid, you can't control how much your competition is willing to spend.
Make sure numbers are working for you and you're targeting a few less competitive keywords. Adjust your budget as you go along to see how your campaign performs. That's how you'll turn your business into a lead gen business.
There are many emerging new ad networks, but some work better than others for online lead generation.
Not all networks are created equal, but let's focus on the good.
Facebook is a great option for advertising, but you need excellent creative and a great landing page – much like you do for an effective AdWords ad.
YouTube is another great way to generate leads, and 48% of marketers plan to add YouTube to their content strategy in the next year. (HubSpot, 2017)
But, you need excellent videos.
And ads. YouTube ads are an absolute gold mine right now. Currently, they have the highest click-through rate of all digital ad formats.
Then there's Google display advertising. While it's really better for branding, they have new targeting abilities that are really helping drive more conversions, mainly:
SEO for Online Lead Generation
The fact is all SEO takes time, but it has the biggest return at the end.
The first position on Google search results on desktop has about a 30% click-through rate for unbranded searches.
61% of marketers say improving SEO and growing their organic presence is their top inbound marketing priority. (HubSpot, 2017)
Here's the dirt:
Local SEO is the easiest option.
If you want to know how to start a local lead generation business, you should start with Local SEO.
It's especially effective for smaller, local shops or companies who don't necessarily need to appeal to a national audience.
Good news if that's you – 88% of consumers who do a search on a smartphone call or visit the local store within one day.
Keep that in mind if you want to know how to start a local lead generation business.
On the flip side, national SEO can take years for a new website in a competitive space.
But don't get discouraged – SEO eventually will have the biggest return on online lead generation.
The wait will be well worth it once you've landed on Google's first page.
You should never cut corners with SEO; you can get a penalty.
People who work for lead generation companies know that SEO used to be a much murkier business before Google began enforcing penalties.
Stay away from any black hat strategies, including:
Social Media for Online Lead Generation
Social media marketing will get you leads, but you have to be willing to put in the work.
71% of consumers who have a positive experience with a brand on social media will recommend that brand to others.
57% of brands believe that their marketing with social media stories has been "somewhat effective" or "very effective."
Here's the dirt:
Social media requires 5 to 10 hours a week on each site to be effective for online lead generation
.
You have to put in the time to get the returns.
There's no exact amount of time that works for everyone, so you'll have to experiment and allocate to be as efficient as possible.
That may mean bringing in outside help like a marketing consultant who knows how to start a lead generation business.
You need to spend money on social media advertising to make it really worth it if you are a big business.
Social media advertising budgets have doubled worldwide over the past two years.
In order to keep up, you'll need to invest as well.
And with the introduction of targeting options like Facebook remarketing and LinkedIn Lead Gen forms, social media online lead generation is more effective than ever.
You are not going to see a good return from Snapchat.
Though they are trying to get better with new advertising options such as remarketing and branded filters, only a few brands see solid returns from Snapchat.
Unfortunately for most business, it's simply a waste of time.
Twitter is not for driving leads.
Rather, it is best used for establishing relationships, making connections and setting up meetings.
LinkedIn advertising and organic marketing are excellent for B2B.
Best known as the network of choice for professionals and lead generation companies, LinkedIn can be invaluable for B2Bs.
So much so that 80% of B2B leads are generated through LinkedIn.
To make the most of the platform, make sure you've set up your company page, are joining relevant groups (and participating in them!) and publishing your own content with links to your site.
All businesses should be on Instagram.
Because frankly, everyone else is. And anybody who knows how to start a lead generation business will tell you that you need to be on Instagram.
Once you've set up your business account, remember to treat it like any other aspect of your marketing campaign.
Which means you don't just start posting pictures. Instead, approach it with a strategy.
Pick your main themes, establish brand guidelines, and make sure you're measuring and testing results.
For a complete guide to Instagram marketing, click here.

Email Marketing for Online Lead Generation
Don't be fooled by all the new, flashy marketing channels out there – email marketing is still essential for online lead generation. So if you're looking for a solid lead generation business model, go with email marketing.
In fact, Adestra's annual email marketing census reports that it delivers the best marketing ROI, outperforming PPC, SEO and content marketing.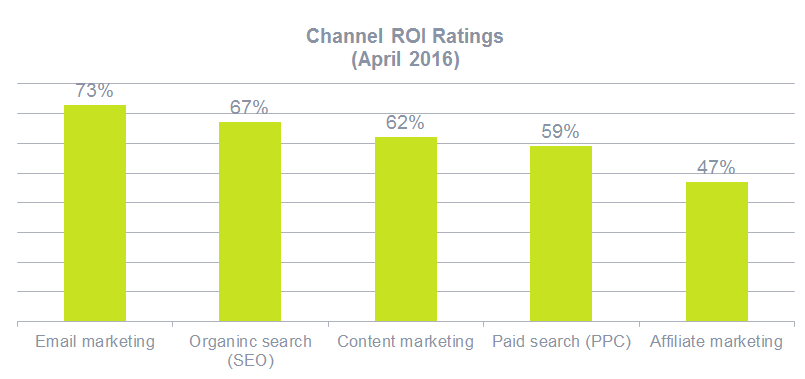 It's a great option that's well-known to online lead generation companies, and every business should be using it.
The median email marketing ROI is 122%.
Companies can expect to earn $38 in revenue for every $1 spent on email marketing.
Here's the dirt:
If you think email marketing is not right for your business, you are wrong.
Email marketing can work for every business.
Here's why:
It's an easy way to reach customers – especially through mobile

It's easily integrated with other marketing tactics

It's a great way to keep customers and leads informed of company news, deals, coupons, etc.

It's inexpensive
If it isn't working for you, you're likely just not approaching it right.
Which brings us to:
You need to have an email acquisition strategy and an email execution strategy.
Email acquisition: how will you get customers emails?
In order to effectively collect, you need to answer questions like:
Who are your customers?

How do they interact with your brand?

What will entice them to leave their contact information?

What information is most valuable to you?

Email execution: What and when will you send?
A few key elements to keep in mind when your strategy:
Segment your lists (customers vs. leads, daily vs. weekly or monthly receivers, etc.)

Make sure all emails are mobile friendly

Repeatedly test your copy and design
Online Lead Generation FAQ:
1. What Are Free Options For Generating Lead Online?
If you're on a tight budget but still want to generate leads online, there are several free options you can pursue:
Answer questions on Quora

– By answering questions on

Quora

, you not only demonstrate that you now how to communicate, but you also show people that you're an expert in your niche. Just make sure to only answer questions related to your industry and expertise.

Comment on relevant blogs

– If you see a blog post that includes content relevant to your line of business, add a comment. Do that frequently and people will start to recognize your name.

Engage on social media

– Use social media to promote content that's helpful to people in your target market. That's a great way to generate a little bit of buzz about your brand.

Guest-post on blogs

– Find some non-competing blogs that people in your market like to visit. Reach out to the webmasters and ask if you can guest-post. You'll often get a welcome reception if those folks are in need of content.
2. Do Popups Work for Online Lead Generation?
That depends on how you use them and who's in your target market.
A popup that annoys people by appearing on the screen while they're trying to read your content is often going to get clicked away as fast as possible.
However, exit-intent popups are much more user-friendly. They're less intrusive because they only appear when the visitor is trying to navigate away from your site.
It's worth noting, though, that countless digital marketers rely on popups to generate leads. It's safe to say that they're effective.
Using the information above, you and your team will be able to form a more effective approach to online lead generation.