Want to make the most of your webinar?
Then you need the best webinar platform.
The rise in the popularity of webinars has brought with it a slew of new platforms, and in this article, I'll highlight a few of our favorites.

The 15 Best Webinar Platforms:
Picking the best webinar platform is without a doubt one of the most important parts of planning a webinar.
But there's more that goes into the planning process, so here are a few best practices to keep in mind as you go:
Keep them between 30-45 minutes long – studies show attendees prefer a webinar running between that time length
Morning is the best time to hold one – attendees prefer webinars held at 10 or 11 am
As far as which day of the week, Tuesday's the winner, with Wednesday and Thursday closely following
Always hold a Q&A at the end – 92% of webinar attendees want a live question and answer session at the end of a webinar
Wondering how many attendees is a good number? The average number is 148.
Which Businesses Will Benefit Most From Webinars?
Truth is, many businesses could likely find a use for a webinar.
For one, you can deliver tremendous value to customers while forging more personal connections.
That said, certain businesses will find webinars more beneficial. B2Bs, in particular, will find it especially useful in helping to establish their positions as thought leaders in the industry.
Fields like e-commerce may not find the same returns from webinars.
That's not to say any business shouldn't try it. But give it some thought before investing in some of these platforms. Make sure you have topics picked out that would lend themselves well to a webinar format, and a very clear value proposition for each. It's also a good idea to run a survey or collect feedback on any potential ideas to gauge the amount of interest around your potential topics.
As a reference, producing and holding webinars will generally cost at least $100, with most falling anywhere from $100-$3,000.
The Best Webinar Platforms: Our Criteria
There are a few key functions and criteria which help to decide which are the best webinar platforms:
When making our list we took into consideration:
Number of attendees
Budget
Features
User-friendliness
Brand
Software
These factors are instrumental in deciding our list and you should keep them in mind during your research.
The Best Webinar Platforms For Business
Without further adieu, here are our picks for the best online webinar platforms.
1. WebinarJam
Hands down, WebinarJam is one of the best webinar hosting platforms in the biz.
The recently re-launched platform earns major points for its simplicity of use and low price-point.
A few things it does really well:
Product sales. WebinarJam allows you to use pop-up calls-to-action (CTAs) throughout your webinar so attendees can easily click to purchase – as you explain the benefits in real-time.
Communication. It's also an exceptional platform for communicating with your viewers during the webinar.
Additionally, it allows you to moderate incoming comments before they appear in the chat, highlight the most relevant comments, and poll your audience. You can also include up to six presenters in one screen, temporarily turn a viewer into a presenter, and it's compatible with virtually all browsers.
Other notable features include:
Ability to stream to Facebook Live, YouTube Live, or our private JamCast broadcaster
Secure webinar rooms with password protection
Engage with a virtual whiteboard, polls and live chat
Customizable pages for brand consistency
Inject pre-recorded video for perfect presentations
Automatically record every webinar
Communicate before and post-webinar with built-in autoresponders
Know your data with advanced analytics and tracking
Prices start at $39.99/month.
2. GoToWebinar
If you've been following the rise of webinars, you're likely already familiar with GoToWebinar. This online webinar service has been around almost since the beginning.
Some of the biggest benefits of GoToWebinar include a handy video sharing feature, breakout rooms to split up your audience, and a few mobile apps that can be used for webinar management. As such, it offers some of the best webinar tools on the market.
It also features some advanced lead management and reporting tools which allow you to integrate with your existing CRM. By doing so, you can handle lead generation and event creation all in one place.
Additionally, GoToWebinar enables you to brand your webinar materials, generate questions that capture relevant registrant info, and keep an eye on participant attentiveness with an engagement dashboard.
But keep in mind, it does come with a few drawbacks. While it allows up to 3,000 participants, you'll have to pay for them. The basic plan only allows 100.
Beyond that, it's not quite as user-friendly as WebinarJam.
GoToWebinar customers include Unbounce, Mention, Gainsight, and Vyond.
After a free 7 day trial, prices start at $49/month billed annually. For that, you also get GoToMeeting for free.
GoToWebinar also offers a Pro Plan for $199/month and an Enterprise plan at $399/month.
3. Zoom
One of the best parts about Zoom? It's convenience.
The platform allows you to create multiple webinars using the same link, which makes it easier for attendees. And let's face it, the easier it is, the more likely they are to attend.
It's also one of the only major platforms that offer a free plan. If your webinar is under forty minutes and your attendees under 100, you can use its basic features for free.
Zoom works across all platforms and will record the entire event, including questions asked by viewers. It also offers screen sharing and annotations and allows you to broadcast to Facebook Live or YouTube.
Other handy features include:
Host controls such as mute/unmute panelists, recording and more
Polling and Question/Answer dialog box with live or text answers
Registration and post-webinar reporting
Closed captioning
Integrations with CRM and marketing automation systems
Monetize your webinars with our Paypal integration
A free personal meeting plan is available with the above restrictions. Paid plans start at $14.99/month, with Business and Enterprise plans available as well.
Keep in mind: Zoom maxes out at 1,000 participants. If you need to accommodate a larger audience, you'll have to look for another solution.
Also, Zoom charges per host. If you go with the basic paid plan at $14.99 per month but use two hosts, you'll pay $14.99 x 2 or $29.98 per month.
4. EverWebinar
EverWebinar is powered by WebinarJam.
That said, it offers features entirely it's own.
While WebinarJam is focused on live events, EverWebinar is focused on evergreen webinars.
Like evergreen content, evergreen webinars are existing webinars that are re-broadcasted over time. The idea is that some webinars contain topics and content that stays relevant and can be replayed to new attendees (and new potential customers).
With EverWebinar, you have three options:
Show the webinar live
Show a hybrid – a pre-recorded video with live chat enabled
Show a fully automated video – no work or interaction from you required
The platform will import your entire WebinarJam session – including chats, polls, offers, etc. – but you can tweak those features as necessary for the rebroadcast.
You can also go in and add lines of chat to your session or delete existing chats as you see fit.
Prices start at $41/month.
5. GetResponse
You've probably already heard of GetResponse.
It's a complete marketing automation platform that excels at email, with a Perfect Timing feature and A/B testing.
It also happens to host webinars.
Being that it offers a full range of services, it's a very convenient service for creating and promoting your online webinar. If you use GetResponse for your other marketing solutions, you can use it to send custom emails, segment your list and seamlessly schedule and send information regarding upcoming webinars.
Like the others on this list, it includes features like polling, desktop sharing, integrated whiteboard, and access to detailed reports.
Here are a few other features you'll appreciate with the GetRespone webinar platform:
A chat feature that boosts audience engagement
Smart polls that enable you to gather feedback (you can use single-choice and multiple-choice questions)
Partial screen sharing capability to show attendees what you're doing
The ability to livestream your webinar on Facebook or YouTube
A call-to-action button that you can use to promote products and services
So if you already use GetResponse, it's well worth experimenting with their webinars.
Prices will vary depending on the size of your email list. There is a free 30-day trial; afterward, plans start at $49/month for up to 100 participants.
6. Google Hangouts
The real pro of using Google Hangouts is in the price tag: it's free.
To use it, you need your own YouTube channel and Chrome browser.
Hangouts aren't always your typical webinars, as they're available to smaller groups with an option to broadcast to a wider audience using YouTube live stream. It's also different in that it allows multiple people to speak during the event.
The webinar is automatically uploaded to YouTube upon completion, where you can choose to make it public or private. However, it's not the best option for those looking to charge for their webinar. While streaming, the event will be public.
Do keep in mind that all invited members will need their own Google account, and Hangouts don't offer any additional marketing tools.
However, you can't be the price – free.
7. Demio
Demio touts itself as the hassle-free online webinar service.
It claims you can set up your entire presentation in just minutes, with easy scheduling and the option to copy the settings from one event to future events.
In that respect, it's an ideal platform for those new or not-quite-comfortable with webinars and their various settings.
It also offers some pretty advanced features. For example, Demio has tracking options that allow you to retarget and track attendees from the webinar interface, registration, or thank you page.
Demio also includes public or private chat options, a one-time registration process for an entire webinar series, and is based entirely in your browser, meaning there's no need to download any additional software.
Event holders can also invite up to 15 event coordinators who have access to a mic and webcam and the ability to view chats and moderate attendees.
Price starts $34/month, with a Growth plan available for $69/month and a Business plan for $163/month.
Demio maxes out at 500 attendees, though. Look elsewhere if you're expecting a very large audience.
8. ClickMeeting
ClickMeeting is another platform ideal for those new to hosting webinars.
Its easy instructions break down the process of creating a webinar, making it simple for anyone hosting an event for the first time.
Like Demio, it's based in your browser, so there's no need to download any additional software. Also like Demio, you can copy features and settings from previous webinars to apply to future ones.
You can customize the layout of each webinar to suit your brand and create waiting rooms for anyone who arrives in the webinar early. In the waiting rooms, you can put information about the event or presenters for attendees to look at while they wait.
ClickMeeting also features a mobile app where you can schedule, invite, stream, and record your webinars.
There are more than 140,000 people who use ClickMeeting in over 100 countries. The software hosted over 600,000 events in 2018.
Pricing starts at $25/month for a maximum of 25 attendees. A Pro plan for 50 attendees is available for $35/month, and an Enterprise plan for 500-5000 attendees is available with custom pricing.
9. Dacast
Another platform ideal for beginners, Dacast approaches pricing in a way that makes it easy to hold one-time events or experiment with a trial webinar.
It's one of the only platforms that allows you to pay per event, rather than by subscription.
While it lacks a few of the more advanced features of other webinar platforms, it offers a good variety of functionality across all plans, including:
Akamai-Quality Streaming
No Viewer Limits
Unlimited Channels
Watermarking
Play on Facebook
Playlist
Third-Party Integration
Multi-Bitrate
Secure Delivery
Analytics
Mobile Device Support
Video Paywall
FTP Access (Not on Trial)
Prepaid Extra Bandwidth Available
After a free trial, plans are available either monthly or per event. Per event pricing begins at $.25/GB, and monthly plans start at $19/month.
10. Livestorm
Livestorm was made with marketers in mind.
It features some of the best webinar tools available, including advanced features like marketing automation, which includes invites, reminders, and integrations, as well as advanced analytics.
Its analytics platform allows you to track minute-by-minute attendance and attention rates of your audience.
With Livestorm, you can create and customize your own landing pages and registration inside the software. It also allows you to integrate with streaming services like YouTube Live and Twitch.
Keep in mind, Livestorm is relatively new on the scene and does lack some features such as pop-up windows and countdown timers.
You can use Livestorm for free; however, you're limited to 10 attendees and a maximum of 20 minutes for your presentation.
Prices start at $99/month for 100 attendees. A Meet Premium option also exists and starts at $31/host/month.
11. BigMarker
BigMarker has a well-earned reputation as one of the top video platforms to host webinars, summits, and virtual conferences.
They are known as a robust tool with capabilities that offers quality at an affordable price.
BigMarker includes great features that allow you to include up to 10,000 participants and create polls, live question and answer sessions, and handouts.
Additionally, BigMarker excels at marketing and sales so you can send custom email invites, reminders, prospects for business, nurture, and much more.
A free trial to test BigMarker is available and its monthly prices, once you sign up, is $79.00.
12. WebinarNinja
WebinarNinja is a tool that seeks to be accessible from novices to those operating at an expert level.
It is a robust tool that acts as an all in one platform which means you do not need to spend time or money purchasing add on features.
Some of WebinarNinja's features include Q&As, offers, polls, and screen sharing.
WebinarNinja has a useful CRM integration that allows users to reach more prospective customers.
Further, it has features such as subscriptions, a webinar finder, and stats and analytics which are easy and helpful for marketers.
WebinarNinja offers a free 14-day trial and four different monthly pricing options to choose from; Starter for 100 attendees, Pro for 300 attendees, Plus for 500 attendees, and Power for 1,000 attendees.
13. EasyWebinar
Featuring both live and automated webinars, EasyWebinar is a marketing tool used mainly by SaaS companies, authors, consultants, and other industry experts to onboard customers, create online courses, and run sales funnels.
Their features span customized branding, CRM integration, and call recording.
Currently, EasyWebinar has more than 11,000 customers worldwide, including Drip, AWeber, and Paperless Proposal.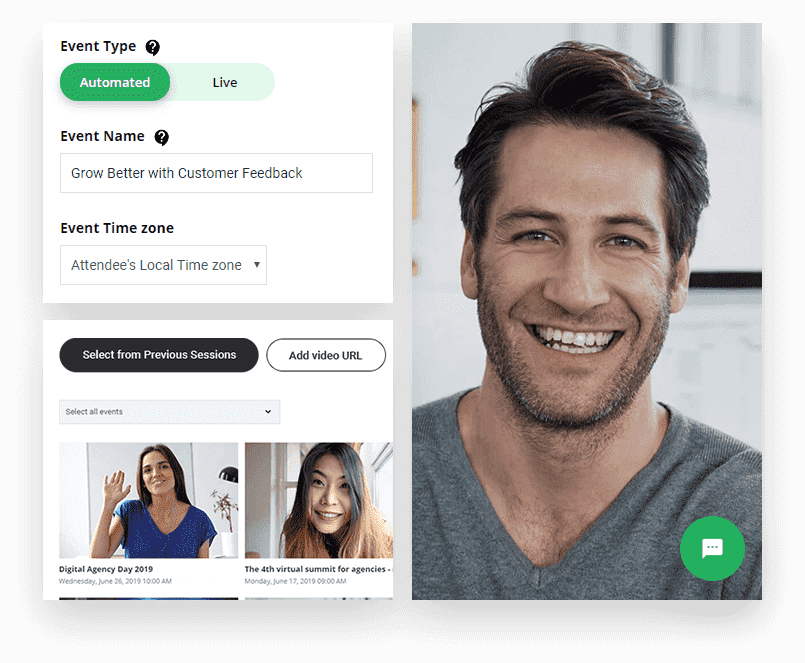 14. ZohoMeeting
Zoho Meeting has been rated as one of the top webinar software solutions by multiple publications over the years.
This web conferencing software is used by both large and small businesses alike and is ideal for team collaboration, app-based demonstrations, and team collaboration.
The best part is that you don't need to download anything—Zoho Meeting runs directly on your browser.
Other key features include:
Simple and intuitive user interface
One-time branding
Deep integration with Zoho CRM
Storage for recordings
Live chat
Subscriptions start at $15 and users can enjoy a 14-day trial period before committing to a plan.
15. BlueJeans
BlueJeans is a cloud-based video conferencing and screen sharing service that can connect users across devices, utilizing conferencing solutions like Cisco, Google and Skype for Business.
Noted for its simplicity, this platform lets you seamlessly schedule, join, and host meetings in seconds.
National Geographic, ADP, Facebook, Intuit, and Zillow are among BlueJeans' top customers.
Wrapping Up
Due to the popularity of webinars, there's no shortage of platforms to choose from.
The above is by no means an exhaustive list, but it does highlight some of the biggest platforms with the best features and functionality.
Ultimately, the one that's best for your business will depend on the features most valuable to your brand.
Consider things like:
Budget
Ease of use
Attendance size
Availability of analytics
Features like chat and sales pop-ups
Number of presenters
Once you've decided which features are most important to you, you'll be able to more confidently choose the best platform for you.
Picking the Right Webinar Platform FAQs
1. What is a webinar platform?
Put simply, webinar platforms power the software that enable companies to conduct and share interactive live and recorded video presentations to existing or prospective customers.
It provides brands with the opportunity to explore key topics, educate users, and build a more personal connection with their audience.
Most brands use webinars to deliver value to customers via videos, slides, chats, polls, and special offers or promotions.
When considering which one is the best tool for you, here are a few factors to keep in mind:
Is it within budget?
Does it offer free trials?
Are you able to have multiple presenters?
Are HD video, audio, and other innovative features included?
Do users need to download a plugin or can you host it on your own site?
How many people can present at one time?
How many viewers can you present at one time?
Will it support your audience size?
Can you track the success of your webinars through specific metrics?
2. What webinar platform is most commonly used?
WebinarJam is one of the best and most used webinar platforms. Its user-friendliness and low price-point make it an appealing option for those looking to host webinars on an effective platform.
3. Is Zoom good for webinars?
Zoom can be great for webinars, yes, but it has its limitations. Zoom allows for view-only access and is a great communications tool for conference calls and screen sharing where a team of 100 people or less can also see each other and chat. Zoom has basic webinar features, however, if you're looking to hold a more advanced session with many more attendees than you may want to consider those like WebinarJam, Demio or Webinar Ninja.
4. What equipment do I need to host a webinar?
To best organize a webinar you'll need a computer or tablet with WiFi connection, a webcam and a headset with a high-quality mic.