In this article, we'll go over what you need to know programmatic advertising and explain why it will likely be an important part of your strategy going forward.
Even if you're new to digital marketing, chances are pretty good that you've heard the phrase "programmatic advertising" on at least a couple of occasions.
That's for good reason. In a recent forecast, eMarketer estimates that programmatic ad spend will hit close to $33 billion this year.
What, Exactly, Is Programmatic Advertising?
Programmatic advertising is a type of marketing automation.
Specifically, it's automated ad spending. The idea behind programmatic advertising is to automate the decision-making process of where ads are placed.
"Put very simply, programmatic is buying digital advertising space automatically, with computers using data to decide which ads to buy and how much to pay for them, often in real time," says Kenneth Kulbok, a programmatic sales lead at LinkedIn.
"Traditional ways of buying digital ad space involve the publisher running the campaign, while programmatic puts the control to manage and measure back in the hands of the advertiser."
Programmatic advertising relies on artificial intelligence (AI) to make the right purchases. In some cases, it combines AI with real-time bidding (RTB) to optimize display, mobile, and even video campaigns.
It's also becoming increasingly popular with TV ads as well.
"Programmatic started off as a way of using up remnant inventory," says IAB UK senior programmer manager, Dee Frew. "It was a way of increasing the efficiency on leftovers, but as it has evolved it's become more sophisticated."
However, Frew explains, you shouldn't confuse it with RTB.
"There is, however, a frequent misunderstanding that all programmatic is real-time advertising. That is a subset of programmatic, a way of utilizing programmatic techniques to make instant purchases. It's a bit like having a robot shop for you on eBay. Real-time advertising is an auction-based model, whereas programmatic is the full breadth of automation."
Maximizing ROI
The driving force behind programmatic advertising isn't just to give the overworked marketer a little more free time to come up with creative promotions. It's also designed to maximize return.
How does it do that? Recall that programmatic advertising uses AI. As a result, it "learns" when and where to run ads for maximum impact.
In a nutshell, that means marketers save money as well as time when they opt for a programmatic solution.
Sheila Kloefkorn, President and CEO of KEO Marketing, says that one of her company's clients gained a whopping 508% increase in conversions after adopting programmatic advertising.
Not Your Father's Ad Strategy
Programmatic advertising replaces archaic, trial-and-error marketing campaigns that busted budgets for decades.
That's because it relies on an algorithm to determine the best advertising solution. All you have to do it plug in some info and set your key performance indicators (KPIs).
Once the system gets going, it optimizes the campaign. Even better: it does that much more efficiently than a human.
Say Goodbye to Ad Fraud (Almost)
Some marketers are reluctant to embrace programmatic advertising because of click fraud. They couldn't be more wrong.
For starters, click fraud existed long before programmatic advertising came along. So it's hard to make the case that click fraud is the result of automated marketing.
Second, artificial intelligence can detect click fraud. It can also avoid channels that are likely sources of fraudulent activity.
In some cases, you might have to intervene to make that happen. Once you determine where low-quality clicks are coming from, you can "tell" the system to avoid those sources.
Keep in mind, though, that click fraud will likely always exist. You can be sure that tech-savvy people are right now looking for ways to "beat" programmatic advertising software.
A New Way of Thinking
You might be one of those marketers that likes to be involved in every aspect of a campaign strategy. If that's the case, you need to be willing to give up some of that work when you turn to programmatic advertising.
You might even go through withdrawals.
Keep in mind, though, that the name of the game is to make money. Once you see that programmatic advertising is optimizing your ad spend and reeling in customers, you'll likely be very happy with an automated solution.
Also, computers don't need to sleep. That means they can crunch numbers, aggregate metrics, and apply algorithms 24 hours a day, 7 days a week.
As tireless a worker as you think you are, you'll never be able to compete with that.
Big Data Rules
Programmatic advertising is likely to become a necessity, rather than a convenience, in the coming years. At least for companies with a large customer base.
Why? Because of Big Data.
In this era of the Information Age, Big Data rules. That's because, as the name implies, it aggregates countless data points.
And those data points can be used for marketing purposes.
For example, Big Data can tell you that left-handed people in Kalamazoo, Michigan are 30% more likely to buy your product than white millennials nationwide.
Of course, in order to make that determination, you'll have to personally pore over millions of rows of data. But that's not realistic, is it?
Enter programmatic advertising, which plays perfectly with Big Data so that you don't have to.
The reality is that it would take an army of human beings many hours to crunch through the numbers provided by a Big Data repository. A good algorithm can handle that task in much less time.
Even better: it can analyze the data to uncover hidden markets and optimize your ad spend.
A Tale of Two Platforms
There are two platforms in the programmatic market: the demand-side platform (DSP) and the supply-side platform (SSP).
Companies or agencies use the DSP to decide which ad impressions to buy. They also use it to determine how much they'll pay for them.
Publishers use the SSP. That's where they sell advertising space.
Programmatic Direct Vs. RTB
When you say "programmatic advertising," you haven't said everything. Some companies purchase ads via programmatic direct, while other use RTB.
When companies use programmatic direct, they're automating direct ad buys for their campaigns. In other words, they're not participating in an auction.
RTB, on the other hand, by definition involves an auction. However, it can also be (and often is) used in programmatic advertising.
In fact, programmatic direct evolved out of RTB as a way to take the advantages of automation and apply them to the usual ad-buying process.
Nowadays, more than half of programmatic purchases are programmatic direct.
"Private setups give buyers and sellers greater control over their automated buys," says Lauren Fisher, a principal analyst with eMarketer. "They may have initially served to bring in reticent buyers and sellers, but now private setups drive much of the change and momentum in the marketplace, as both parties seek greater control from their programmatic efforts."
One aspect of programmatic direct is guaranteed impressions. In that case, a price is agreed to by the buyer and seller before the ads go live.
When companies need to expand their advertising or reach out to a different target market, they can bid for real-time impressions.
"The conversation going on between the buyers and sellers has a vocabulary of its own and sometimes it is like learning a new language. But ultimately the system is buyers on one side of an equation, sellers on the other and brokers in the middle," Frew says.
Programmatic: The Trend Is Its Friend
As we've seen, programmatic advertising makes up a large chunk of online ad spend already. You can expect that companies will increase their investment in automated marketing solutions over the coming years.
In fact, some industry experts predict that 100% of all advertising trading will be programmatic by 2020.
Yes, It Works for Mobile Advertising
It's foolish to operate any kind of digital marketing strategy these days that doesn't include mobile outreach. Fortunately, programmatic advertising can be used for that as well.
In fact, you can be sure that the demand for mobile advertising via programmatic solutions will only continue to grow. That's because mobile usage is also growing.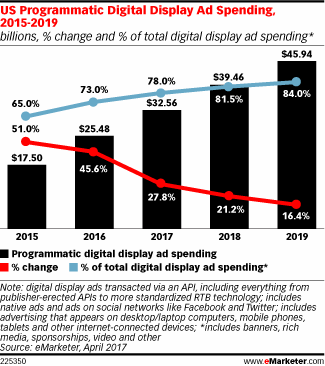 As of now, almost 8 in 10 U.S. mobile digital display ads are purchased via automation. That metric will hit 85.2% in 2019.
Video, Too
Yes, programmatic advertising also works with video ads.
In fact, 2016 was the first year that more than half of all U.S. digital video ad dollars were spent via automation. By 2018, you can expect that 3 out of every 4 dollars spent on video ads will be handled with a programmatic system.
Native Ads As Well
Yes, you can purchase native ads with a programmatic system.
As of now, though, native ads are lagging behind the broader ad market on the automated front. Less than half of U.S. native digital display ads will transact through programmatic systems this year.
Expect that statistic to grow in the coming years.
Automated Split-Testing
Even if you're new to digital marketing, you probably already know about the importance of split-testing. Programmatic advertising helps you with that as well.
How? Through dynamic creative optimization (DCO).
In case you haven't heard that phrase before, it's a way of optimizing display ads with automated testing. It's an automation strategy that helps you offload some of the "heavy lifting" of digital marketing to a computer.
It's also a perfect fit for programmatic advertising. The programmatic system can use its algorithm to serve only those ad formats that achieve the best results.
Personalization
Another way that programmatic advertising shines is with personalization.
Studies show that people are more likely to respond positively when a marketing message is personalized. That's why it's important to craft a message that's tailor-fit to individual needs.
Programmatic advertising helps with that by using geolocation and demographic information to optimize the copy.
Companies Using Programmatic Advertising
As we've seen, programmatic advertising is already widely used. In fact, some companies that are household names have been using it for a while.
L'Oreal started experimenting with programmatic media purchases back in 2014. Now, the company (which happens to be the third-largest advertiser in the world) relies more heavily on automated solutions.
"We've seen that combining display with our own first-party data can have a real impact on how consumers engage with ads and then make purchases," says Khoi Truong, L'Oreal's global director of precision advertising and digital analytics.
The company uses its own in-house trading desk that works directly with Google's DoubleClick.
Kimberly-Clark started with programmatic advertising way back in 2011. Fast-forward to today, and the company has its own marketing technology and innovation practice called This Digital Innovation Lab.
The "lab" is an incubator for startups that specialize in predictive analytics and omnichannel marketing.
Unilever became a key player in the programmatic space in 2014. At that time, the company insisted that it would only pay for video ads that render 100% in the view pane and played at least halfway through with the volume on and no aid from autoplay.
"We define viewability as an ad that is viewed by a real person who is in our target audience in an appropriate environment," says Jennifer Gardner, Unilever North America's director of media investment and partnerships. "We believe we've reached a tipping point in technology when the time is right to level the playing field with other media."
The company also has its own dedicated programmatic buying division called Ultra.
Get Started With Programmatic Advertising
If you're looking for advertising automation, optimization, and personalization, then you should adopt a programmatic solution. Simply put, it's direction that the marketing industry is headed. If you try to fight that trend, you'll likely get left behind.