Want a website, brochure or white paper that converts like crazy?
( Of course you do.)
Good news: you can have it. All you need is the right content.
You've probably heard of copywriting. In the marketing world, that's content intended to sell. It's key in the conversion process and for customer engagement, and can make or break a content strategy.
What Copywriting Isn't
Let's be clear about one thing:  Copywriting isn't regular writing.
It isn't writing literature, an article or a research paper.
It isn't fluffy or filled with flowery prose.  
In fact, what copywriting really is, is persuasive writing.
It's writing with a purpose, and the purpose is to persuade consumers to take action. When done right, that action can be a purchase, subscription or opt-in.
It's word magic. And it's crucial to ensuring a marketing strategy converts.
Copywriting can take many forms, and it's most often seen in:
Web copy

Brochures

Business ads

Sales pages

Email marketing

eBooks

White pages
Why Good Copywriting Matters
Products and services can't speak for themselves. They need to be sold.
And in lieu of a sales force, we rely on our next best weapon: words.
Fact: Smashing Magazine reports that "it's not uncommon for proper copywriting to increase search traffic by 50 percent and conversion rates by 30 percent."
Words work.
What your readers see when they land on your web page or open your email will determine how long they pay attention and how they feel about your product.  
Fact: Consumers' average attention span is now 8 seconds – 1 second less than a goldfish. (This is 4 seconds SHORTER than it was in 2000.)
These are not impressive numbers, and means that oftentimes readers aren't impressed enough to stay on your site. But killer copywriting can change that.
Fact: On the average web page, users have time to read at most 28% of the words during an average visit; 20% is more likely.
Good copywriters don't waste words. Every sentence is designed to draw readers in and push them deeper down the marketing funnel — even when working with an 8 second attention span.
You're probably wondering how to write this attention-grabbing, conversion-making copy.
Stay tuned, we'll show how.
Step 1: Know Your Product. Intimately.
Great content begins with a great product, and that's exactly where you need to start.
You need to know why your product is so great, and how exactly it will benefit your customers.
Chances are you're familiar enough with your business to know these answers, but take the time to write them out.
Describe your product in a few sentences.

What makes it unique?

What benefits does it provide?

Make a feature/benefit chart.
The last will play a big part in your finished product, so spend the most time there.
For example, a 24-hour restaurant would have this on the chart:
Feature: Open 24-hours
Benefit: No matter what time it is, if you're hungry we can feed you
Step 2: Know Your Audience. Intimately.
In order to persuade your customers, you have to get inside their heads.
You need to find out how your product aligns with their motivations and desires and make it the answer to their problems.
The process begins with the buyer persona (age, gender, location, etc.) and digs deeper into motivation.
How would they describe your product?
Why did they ultimately decide to buy?
What features are most important to them?
Once you know who your customers are, you'll know what they'll be willing to buy and how to persuade them to do so.
Take this mini, portable espresso maker.
This product clearly isn't meant for everyone. It appeals specifically to people who live on the go, love coffee and may need a cup at any given moment. A cup in the morning doesn't cut it, and less than stellar office coffee is far below their standards.
Given that information, copywriters would know to use action words and keep it quick and concise; these people are on the go and don't have time to waste on unnecessary words.
And by highlighting its features — quality coffee anywhere, anytime — they can capitalize on their targets wants and more effectively persuade them to buy.
Step 3: Open With a Killer Headline
Remember the 8 second attention span rule?
If you want to grab — and keep — your reader's' attention, you need to deliver an opening they can't look away from. We call that a hook.
The hook can take many forms – a headline of a blog post, subject line of an email or a greeting on a website.
However it unfolds, it's worth spending time on. In fact, some of the best copywriters of all time say you should spend half of the entire time it takes to write a piece of persuasive content on the headline.(Copyblogger)
And there can be no underestimating its importance. On average, 8 out of 10 people will read headline copy, but only 2 out of 10 will read the rest. (Copyblogger)
That means that people are reading headlines, but most aren't intriguing or well-crafted enough to make them read more.
To avoid falling into that category, many copywriters rely on the "four u's" of headline writing:
Your headline should be unique.

Your headline should be ultra-specific.

Your headline should convey a sense of urgency.

Your headline should be useful.
Including just one or two of these will make will help your headlines hook readers.
Also keep in mind: the sentence right under your headline is equally important. The headline will grab their attention, while the right opening sentence will inspire them to read more.
It's unique and tells the reader exactly what to expect, while staying short and engaging.
Step 4: The Formula
Now that you know your target audience and product features and benefits, it's time to talk about your overall goal.
What are you trying to achieve with your copy? A sale? An opt-in for your email list? Subscriber to your blog?
And what do you want people to think and feel when they read it? Inspired, entertained, or excited?
Once you've put that together, it's a matter of answering a few vital questions with your copy.
Copyblogger put together a helpful 1-2-3-4 formula:
What I've got for you — a simple overview of your product

What it's going to do for you — here's where you wow with the product benefits

Who am I? — The introduction phase; establish your authority and trustworthiness

What you need to next — the call-to-action
This formula, combined with one of the copywriting techniques we cover below, will form the framework for your compelling content.
Step 5: Copywriting Techniques
Choose one (or two, or three…) of these techniques and run with it.
The Science of Persuasion
In order to persuade people, you need a basic understanding of human psychology. You have to know what motivates people to buy.
Dr. Robert Cialdini, Professor Emeritus of Psychology and Marketing at Arizona State University, outlines 6 shortcuts to incorporating persuasion:
Reciprocity – if you give someone something (in this case, free in-depth information in the form of blogs, emails, etc.) people will be more willing to give something back

Scarcity – People want to know what's unique about your product, and what they stand to lose by not buying/using it. Use limited or exclusive offers to draw customers in.

Authority – People are more likely to listen if you establish authority and credibility. By speaking as an expert and providing plenty of facts and examples, consumers will be more likely to heed and ultimately trust your advice.

Consistency – People stick to what they know and have done in the past; ask for small commitments, like an email sign up or participation in a social media group.

Liking – People like people who are like them and cooperate with them. Once you've honed in on your target audience, you can talk to them in the language they're most likely to respond to.

Consensus — People tend to have more trust in something that is popular. Use endorsements and testimonials in your copy.
For an  in-depth look at each of these principles, take a look at this video by Dr. Cialdini.
These techniques are the Jedi mind tricks of marketing, and by incorporating some (or if you're a copywriting rockstar, all) into your content, you'll be one step closer to speaking the language of persuasion.
For example, Spotify leveraged the scarcity principle by initially making the service invite-only.
The strategy and its accompanying copy made the service seem exclusive, which in turn made its audience want it more.
On the other hand, you'll find that many marketing companies — us included — build on the reciprocity principle by giving away in-depth information and do-it-yourself posts about the industry.
Storytelling
Show, don't tell. It's storytelling's oldest rule.
And it should be used in copywriting as well. You don't want to tell your readers about your product, you want them to experience it.
So instead of saying "this hamburger is delicious," you need to describe it in a way that puts the reader in the restaurant, seeing the burger, smelling it, tasting it.
ManCrates does a spectacular job of this.
Their description of the Cow-Pocalypse Crate speaks directly to the "manly man," the exact guy who is most likely to purchase a crate full of meat. And because that guy feels understood, he's more likely to buy.
Note: the story only connects if you truly know your audience and their desires, so make sure you do your homework in the target audience stage.
Focus on Benefits
Back to that feature/benefit list.
Great content will focus on what your company offers your audience, and why they should choose you over a million others.
Which is why you need to sell them on the benefits, not the features.
This is how Basecamp does it:
Notice they didn't say "it stores information, sends notifications and is easy to learn." It sold the benefits instead.
I think you can see which is more effective.
Keep it Conversational
Here's where people often get stuck: copywriting doesn't have to be clever.
It just has to be human.
Sure, it can be — especially when using a technique like storytelling — but if it doesn't come naturally it's not where you need to spend most of your time.
Take MailChimps homepage: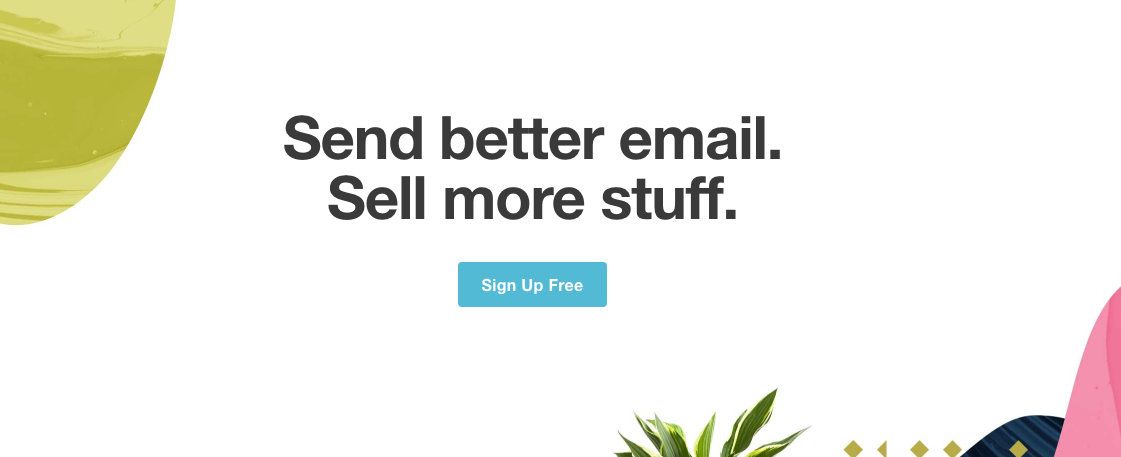 Quick, to the point, and effective.
Use Action and Power Words – And Tweak Them Often
Not all words are created equal. How you describe things can have a big impact on how people feel about them.
Take a look at the following sentences:
This easy process yields great results.
This simple process yields enormous results.  
Nothing wrong with the word 'easy,' but it brings the connotation of shortcuts, while 'simple' has a more minimalist charm. Similar with 'great' and 'enormous.'
This kind of attention needs to be paid to everything you write. In fact, shoe company Schuh reportedly "found that altering its product page call-to-action from 'Buy now' to 'Add to bag' led to a 17% increase in people adding products to their check-out." (WriteMySite)
Notice brands like Buffer don't use the typical "Upgrade Now" call-to-action (CTA), instead they say:
"Upgrade to Awesome"
This tiny tweak makes the CTA that much more unique and intriguing, and could make a huge difference in overall engagement.
Sell Stats
Bragging is completely acceptable in copywriting.  
If you have impressive numbers to share, by all means do it.
Landing page software company Unbounce says this:
"We were able to test our way from a 5% conversion rate, all the way up to 20%. Without driving any more traffic, our client is getting four times the leads that he was getting before."
It may not be the most emotional or exciting language, but if you're looking for landing page software, it's exactly what you want to hear.
Final Tips and Tricks
Here's a few things to keep in mind as you write:
Write in short, clear sentences. Avoid anything overlong or cliche.

Use a combination of bullets and paragraphs.

Speak simply. If your reader even thinks about consulting a dictionary, you've already lost them

Make sure there are

absolutely

no

spelling or grammar mistakes

Explain all products and directions clearly — don't be afraid to state the obvious

Keep your tone consistent throughout your site and all marketing material
Get Started Now
You don't have to be a world-class writer to write effective, persuasive copy.
All you need is a good grasp on your product, your audience and the benefits your product provides them. Then, it's a matter of using the techniques above to make your content as compelling as possible.