Email marketing is far from dead.
In the age of social media and the 24/7 news cycle, you just need to find a way to make your brand's message stand out.
Designing an email that your audience will want to read isn't rocket science – but it does take some strategizing.
Let's jump into everything you need to know about the email design best practices, tools, and templates you need to get the best return on investment when it comes to your email marketing.
What We'll Cover:
Email marketing is great for so many reasons. For one, you can take creative liberty with your brand's voice and message.
It is also one of the few direct lines to your customer. With email marketing, you put yourself right into their inbox. You don't have to worry about algorithms or keywords, just that they're on your list. 
But you can't truly get the best return on your investment if you're not designing emails that people want to read. Who cares if the email is delivered if no one ever actually opens it?
With a little strategy and some design suggestions, you can start seeing the conversions you've been looking for.
Benefits of a Creative Email Design
Getting your audience to open your email is only half the battle. Once they open it, make sure they're met with an eye-catching and easy-to-read design. Here are some ways that you will benefit from a well-designed email:
Increases your audience engagement

Builds brand awareness and identity

Convinces your audience to take action

Promotes your brand in a well-received way

Shows your brand's creativity and dedication to audience connection

Provides your audience with high-value content

Improves your conversion rates
Basically what I'm saying is: Don't underestimate the power of a well-designed email blast!
3 Examples of Popular Email Design Templates
When it comes to email marketing design templates, there are a few tried and true designs that you can add to your regular rotation.
1. Zig-Zag
A zig-zag email is a multi-row email template with two columns. The columns alternate images on one side and text on the other. The goal is to bring the eyes across the page and back again.
2. Inverted Pyramid
An email that uses an inverted pyramid design is heavy on the top and moves to a point at the bottom.
The most exciting and attention-grabbing details are on the top. This leads to more informative details in the middle and a call to action at the bottom.
3. The One-Column
The one-column email design is just that – all of the information is in one solid column so the reader can skim right down the page.
Email Design Best Practices
There are several key aspects you need to focus on throughout the email design process. These are the make-or-break factors that help determine whether a user is going to read your emails and engage further with your brand.
First, let's cover the most crucial elements of email design.
Copy

Headings

Structure

Scanning margins

Links

Call-to-Action

Visual Graphics

Color

Typography
Each of these elements lends something to your email, whether it's used to educate and inform your readers or to grab their attention.
Now, let's jump into a few best practices to keep in mind when crafting the perfect email:
Focus on Your Reader
When designing an email, focus on the reader. Consider some of the make-or-break factors that could affect whether they open your message. The key is to make them feel welcomed and engaged with your brand.
Pick Your Email Design Type
There are three types of email designs to consider when crafting your message. They consist of:
Plain Text Emails: Because these emails use nothing but text, they look more like personal emails you would send your friends. They're responsive, mobile-friendly, and easy to create.
Rich HTML Emails: This email involves graphics, structure, typography, and other elements. They are more attractive than plain text emails but may display differently depending on the email domain. Sometimes, they take longer to load than plain text emails.
Interactive Emails: Interactive emails are JavaScript-based emails designed to excite your reader. However, a lot of email readers struggle with JavaScript, which means only some readers can enjoy your message.
Compelling Subject Lines
An outstanding subject line is going to grab your reader's attention and get them to click on it. 
According to Semrush, 69% of readers will mark an email as spam based on the subject line alone. That's a lot of pressure to make sure you create a great one!
You want to make your subject line engaging, relevant, concise, and informative. Avoid using all caps. Just as you wouldn't want to be yelled at in real life, your reader will not enjoy being yelled at in their inbox.
Most email providers will limit the number of characters that will appear in an inbox. This is important to consider, especially because most people read their email on their phone. A subject line with too many characters is going to get cut off. Aim for 50 characters or fewer.
Well-Built Layouts
When designing your layout, choose one that is easily navigated, both on a desktop and on a mobile device.
Use your layout to direct your reader's eye to key elements of your message. Arrange your content in a way that tells your story and gently guides your reader to take action.
Use a Template For Your Email Design
Not everyone can afford a designer, especially when they're just starting their businesses. But that doesn't mean you have to get stuck on your layout. 
Luckily, every major email marketing platform offers email templates. If you need them, use them! Think of these templates as a frame for your email and then modify them as necessary. Add your brand colors, pictures of your product or service, and your own copy.
Add Interactive Content
Just like in real life, people love to engage with brands. You can achieve this goal by using interactive content. 
Ideas include content that requires users to swipe, tap, or click on something on the page. When users feel motivated to take action, they are more likely to feel connected to your brand.
Get Personal
One of the biggest trends we're seeing in email marketing right now involves personalization.
Advanced automation strategies like lead scoring and segmentation mean that content can be customized like never before, resulting in a dynamic, personalized experience for readers.
But, successful personalization stretches beyond adding a first name to a subject line. It requires altering entire sections of content based on the user's specific interests and behavior.
This includes highly targeted product recommendations, promotions, cart abandonment emails, and customer surveys.
Make it Mobile-Friendly
Today's consumers are accessing your emails on a variety of different devices. You don't want to assume that all of your subscribers will read your messages on desktop computers. Nearly every report on email open rates has deduced that mobile is responsible for at least half of all opens. Making sure that your emails are responsive is the ideal solution. Responsive design means that it includes all of the essential design elements without sacrificing the quality of your content.
Stay On Brand
You have free reign to design your email however you want. But keeping your emails consistent is great for building brand recognition and awareness.
Stay with the same colors, typeface, and brand voice in each and every email, regardless of whether it's a sales email or an informational email. If it's coming from your brand, make that obvious.
Use Colors That Actually Work
While you want to use your brand colors in your email messages, you also want to make sure that you're using colors that are easy to read.
For example, a yellow font on a white background is going to be next to impossible for your user to read. Even if yellow and white are your brand colors, pull in a third, more legible, color.
You can still use yellow and white elsewhere in the email but any text should be in a color that is easy for everyone to read.
Place Important Information Above the Fold
The truth is, you only have a few seconds to grab your reader's attention. Be sure to put your message, offer, and call-to-action above the fold so it will attract their gaze.
Once your reader is engaged or intrigued by your message, they will often keep reading to learn more. But if you lose them above the fold, chances of them reading to the end are pretty slim.
Don't Skip the Unsubscribe Button
While the majority of your design is completely up to you, there are a few things you can't ignore. One of those is the unsubscribe button. Make sure you provide a clear and easy way for your audience to remove themselves from your list if they want to.
Not only is this helpful to your readers but it's also required by law. The Federal Trade Commission, GDPR, and the CAN-SPAM Act require email marketers to provide an easy way for people to opt out of their messages.
Email Design Dos and Don'ts
From laying the groundwork of selecting the right topics to producing the graphics and design, creating an email can be a long and grueling process. Here are a few dos and don'ts to help you get certain elements right and avoid common drawbacks:
DO target subscribers based on where they are in the buyer's journey. This is a fairly easy step, especially if you're already utilizing marketing automation software.

DO stay consistent with your branding. Your emails should be cousins, not twins.

DON'T be afraid of taking some risks with bold colors and images if it fits your brand. Color has the power to influence a reader's moods and actions.
DO keep the writing lighter and more readable. The font you use needs to be clean and the margins should be narrow enough to direct readers' eyes downward.
DON'T use the same layout, copy, and graphics for every campaign. You should be strategic with each email.
DO include a branded header graphic, along with one feature image, not including smaller thumbnails or social icons.
DON'T use background photos. If they're not loading properly, they could negatively affect how your email is perceived by the recipient. You should also steer clear of using too many graphics altogether.

DO personalize your emails. From adding their name to customizing the content to their interests, personalization goes a long way.

DON'T get too personal. You want to make your audience feel like they know you. You don't want them to feel like they know you

too

well.

DO let your personality shine through. After all, your audience saw something in your brand that made them want to connect with you.
8 Top Email Design Tools
When email marketing first hit the scene, there weren't many marketing email design tools to use. Now, there are plenty to pick from!
Deciding which one to use is going to depend on a few factors, such as how many people are on your list, how often you want to send your emails, and how intricate your designs are.
Here is a list of some of my favorite marketing email design tools available.
1. SendInBlue
What's great about SendInBlue is that you don't need to have a technical skill set in order to create stunning emails. From the intuitive HTML editor to the expansive template gallery, it offers all the tools you need from the get-go.
SendInBlue also allows for personalized SMS notifications, which is another marketing tool you can explore.
SendInBlue has a variety of pricing options. These options start with a free option where you can send as many as 300 emails per day. They also have three other tiers: Lite, Premium, and Enterprise. Lite starts at $25 a month and Enterprise is customized to fit your needs.
All in all, SendInBlue is pretty affordable, depending on your list size and how many emails you will be sending daily.
2. MailChimp
Ideal for small and medium-sized businesses, MailChimp offers an extensive collection of templates to choose from. What it lacks in automation and segmenting options, it makes up for in its drag-and-drop functionality.
MailChimp also offers a tiered pricing plan, starting with a free account. With the free account, you can send up to 2,500 monthly emails to 500 contacts.
If your needs are larger, you have options from $11 to $299 a month to send emails to 5,000 to 150,000 people, depending on your needs.
3. Constant Contact
For those looking to get started quickly with a reliable email solution, look no further than Constant Contact. Boasting a variety of easy-to-use features and semi-customizable templates, Constant Contact has been a staple in the email marketing community for years.
It has two main pricing tiers: Core, which starts at $9.99 a month, and Plus, which starts at $45 a month. Like all other email marketing tools, the pricing depends on the number of emails you want to send, the number of people on your list, and which design and sending tools will be available to you.
4. Drip
Drip bases its pricing on how many people are on your email list. The first tier starts at $39 a month for up to 2,500 email contacts. To give you some time to learn their platform, they offer a 14 day free trial. You have nothing to lose if you want to jump in and poke around on the backend of this platform.
Drip bases its pricing on how many people are on your email list. The first tier starts at $39 a month for up to 2,500 email contacts. To give you some time to learn their platform, they offer a 14 day free trial. You have nothing to lose if you want to jump in and poke around on the backend of this platform.
5. Topol
Topol may be one of the lesser-known email service providers, but offers a pretty straightforward email builder that includes seven pre-designed email templates in addition to a "from scratch" design option.
While it does have a limited free option, this version is actually super limited in terms of options. Their paid option starts at $10 per month for up to 3 users. You can also take advantage of their free 14-day trial to get to know the platform personally.
6. Flodesk
Flodesk seems to be a new favorite, especially among small businesses and consultants. This easy-to-use platform allows you to drag and drop design elements while creating a gorgeous end result. The email that is produced in Flodesk will always look professional and beautiful, thanks to its templates.
Flodesk's pricing varies from $35 and up. They do offer a free 30-day trial so that you can get into the platform and really get a feel for what it can do for your business.
7. Klayvio
If you have a large ecommerce business, don't sleep on Klaviyo!
This powerful platform works with email and SMS marketing while integrating with other platforms in your tech stack. It really does so much more than Constant Contact or MailChimp.
You can register and send up to 500 monthly emails and 150 SMS messages for free. If you need more capacity, you can upgrade to one of their other paid tiers. For just email marketing, their packages start at $45 a month. If you want to pair email and SMS marketing, their package starts at $60 a month.
8. MailerLite
Don't let the name fool you. MailerLite offers so much more than email marketing. The platform has tools to create automated emails, landing pages, websites, and more. They boast an easy to use interface and quality customer service.
MailerLite's pricing is dependent on the number of subscribers you have on your email list. If you are just starting out and have less than 1,000 subscribers, you could probably get away with using their free package. They also have packages going up to a large enterprise with 500,000 subscribers.
Examples of Killer Email Design Templates That Will Actually Convert
Whether you're a marketing legend or a complete beginner, it's always a good idea to take some cues from the best-looking email campaigns in order to improve your own methods. Below, we've compiled a list of some incredible email marketing campaign examples to give you an added boost of inspiration.
1. Kimpton

Why it Works: This email from the Kimpton Hotel really captures the essence of the inverted pyramid design. It has a large and eye-catching design on the top, the necessary information in the middle, and a clear call to action button on the bottom.
2. Starbucks
Why it Works: From pops of color and quality images to well-written but not overwhelming copy, this email does the zig-zag design right! The eyes naturally glide side to side across the email, making sure to take in everything in this message.
3. Zalando
Why it Works: This email from the UK clothing brand, Zalando, is an excellent example of how to use personalized suggestions in an email. It grabs the reader's attention with an exciting sale offer above the fold and then provides personalized suggestions based on the user's previous history to entice them to use the sales codes provided.
4. Grammarly
Why it Works: This example of Grammarly shows how productive an inverted pyramid design can be. With clear copy, light and happy colors, and a bright call to action button, you know exactly what this email is selling and exactly how to buy it.
5. Artifact Uprising
Why it Works: This email is a perfect example of the One Column. It is clean, clear, and totally understandable. The copy tells you what the email is offering, without overwhelming you with information. The photos are crisp and clear and the color palette is trendy without being flashy.
6. Airbnb
Why it Works: Right off the bat, notice the personalized greeting. And the design itself has everything you need – fresh colors, simple design, and minimal copy.
Airbnb typically does a great job of keeping its emails straightforward with a clear call to action. And notice the CTAs at the bottom enticing the user to get back into a booking? They're prominent, yet don't detract from the email's core message.
7. Tock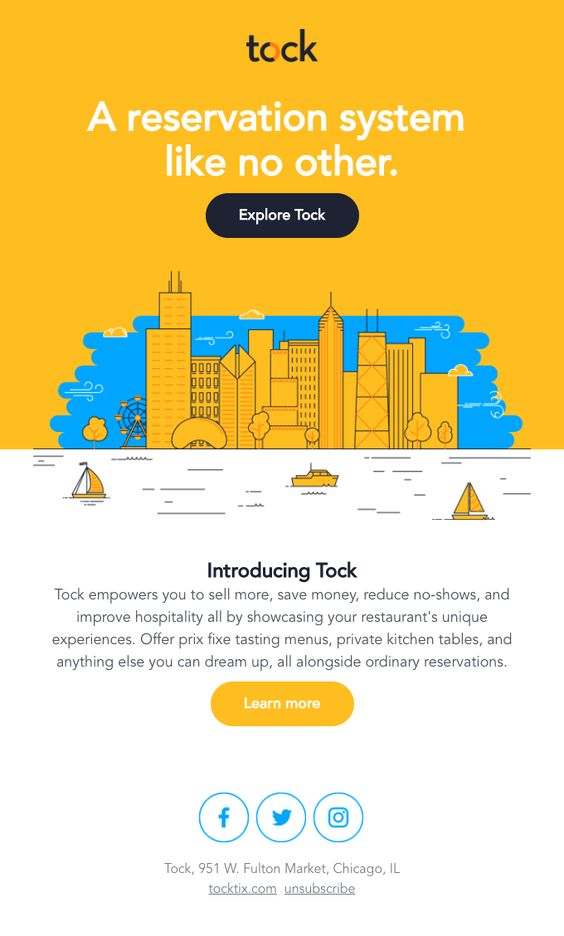 Why it Works: Contrasting colors like yellow and blue instantly grab your attention. And in this case, they coincidentally are Tock's brand colors. The center of the email features a simple illustration of the city to showcase the bustling nature of metropolitan areas and their surrounding restaurants.
Another great thing that Tock does here is matching the color of the "Learn more" button and social media icons to their brand's colors, which reinforces the consistency of their messaging.
8. Sephora
Why it Works: While Sephora typically experiments with unique compositions, they're not afraid of white space.
The black and white headlines throughout the page, the striped wrapping paper at the top, and the open cosmetics containers playfully direct your eyes down towards the product information and special offer below. Notice the small pops of color surrounding the words "New at Sephora" and the placement of the "Shop Now Button."
9. Zendesk
Crew
Why it Works: Never underestimate the impact that one high-definition image can have on your campaign. This email template by J. Crew features almost no copy because it doesn't need to.
All of your attention goes directly to the ice cream cone. And the headline perfectly complements the curiosity of customers with an uncomplicated actionable statement—"This is worth the scroll." Once you complete the task of scrolling, the call to action is simply "Go."
Zendesk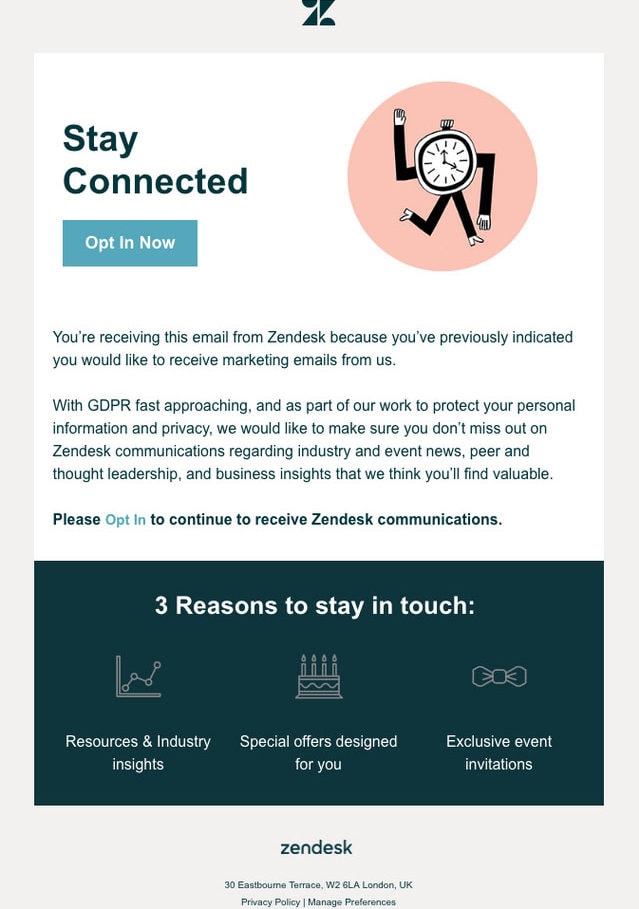 Why it Works: Zendesk did something pretty original here—they essentially created a mini landing page showcasing their brand. The content is broken up into several paragraphs, with the first explaining the goal of the email followed by reasons to stay. The infographic at the bottom of the page is not only concise but still manages to include essential information and not to mention, is visually appealing.
Learn More About Email Marketing
Ignite Visibility is home to a team of expert email marketing professionals. We specialize in leveraging the power of email campaigns to help businesses drive targeted traffic and achieve their marketing goals.
Whether it's crafting compelling email creative, segmenting audiences, optimizing open rates, or tracking performance, we handle every aspect of email marketing to ensure our clients receive optimal results. Want to learn more about our email marketing services?