Riddle me this—what's the easiest and most effective way to get your brand's message across online?
I'll give you a hint…it's also the only channel, apart from your website, in which you have 100% ownership.
If you guessed email design, then congratulations! You're already ahead of the game.
What We'll Cover:
With email marketing, you're not beholden to third-party tech giants. In fact, it's one of the few channels that gives you a direct line to your prospects and customers.
But benefits aside, you can't unlock the true power of email unless you're able to design emails that yield results.
With that being said, are you ready to start creating emails that look amazing and convert like crazy?
In this comprehensive guide, we'll run through everything from email design best practices to hand-picked design templates that knocked it out of the park.
Let's get started!
Email Design Best Practices + Top Tools
There are several key aspects you need to focus on throughout the email design process. These are the make-or-break factors that help determine whether a user is going to read your emails and engage further with your brand.
Here are a few best practices to keep in mind when crafting the perfect email:
Compelling Subject Lines
A standout email design begins in the inbox. While subject lines may not be a traditional "design element," it's one of the most important factors in ensuring that your email gets opened. It needs to be equal parts engaging, relevant, concise, and informative. Avoid the overuse of CAPS and gratuitous punctuation. With the average individual receiving more than 120 emails per day, this can trigger spam filters. Most email providers set character limits nowadays, so try limiting your email subject line to 50 characters or less.
Well-Built Layouts
The stronger your email layout, the better users can navigate, read, and digest your brand messaging. It's best to create layouts that direct the user's eye to key elements of a page. After all, whenever we explore content, we tend to follow predictable paths based on innate tendencies. So consider the visual hierarchy when building your own so you can exploit these tendencies. Whether it's the Z pattern or the inverted pyramid, arrange your content in a way that tells a story and guides them towards the call to action.
Use Interactive Content
Above all else, consumers want to have fun. And these days, there's not a more powerful way to boost engagement than by allowing readers to interact with your content. Interactive elements have been proven to boost engagement by at least 73%. This creates a sort of gaming experience by enabling users to swipe, tap, or click something on the page. According to DemandGen, 91% of B2B buyers favor interactive and visual content above all other forms of content.
Get Personal
One of the biggest trends we're seeing in email marketing right now involves personalization. Advanced automation strategies like lead scoring and segmentation means that content can be customized like never before, resulting in a dynamic, personalized experienced for readers. But, successful personalization stretches beyond adding a first name to a subject line. It requires altering entire sections of content based on the user's specific interests and behavior. This includes highly targeted product recommendations, promotions, cart abandonment emails, and customer surveys.
Make it Mobile-Friendly
Today's consumers are accessing your emails on a variety of different devices. You don't want to assume that all of your subscribers will read your messages on desktop computers. Nearly every report on email open rates has deduced that mobile is responsible for at least half of all opens. Making sure that your emails are responsive is the ideal solution. Responsive design means that it includes all of the essential design elements without sacrificing the quality of your content.
Top Email Design Tools
With so many email service providers on the market to choose from, it can be tough deciding which one can help you create the best emails for your business. Luckily, we've done all the heavy lifting for you! Here are our top picks:
SendInBlue
What's great about SendInBlue is that you don't need to have a technical skill set in order to create stunning emails. From the intuitive HTML editor, to the expansive template gallery, it offers all the tools you need from the get-go.
With SendInBlue, you can send 6,000 emails per month at no charge, and pricing begins at $25 per month for 40,000 emails.
MailChimp
Ideal for small and medium-sized businesses, MailChimp offers an extensive collection of templates to choose from. What it lacks in automation and segmenting options, it makes up for in its drag-and-drop functionality.
MailChimp's free plan allows you to send up to 12,000 emails per month to a list size of 2,000 people for free and charges $10 per month for up to 500 subscribers.
Constant Contact
For those looking to get started quickly with a reliable email solution, look no further than Constant Contact. Boasting a variety of easy-to-use features and customizable templates, Constant Contact's email marketing tools is one of the most powerful on the market.
Constant Contact offers two email pricing plans—Email starts at $20 per month and Email Plus starts at $45 per month, depending on the number of contacts you have.
Drip
If you're a more seasoned email marketer, go with Drip. It may not be as user-friendly as the others mentioned on this list, but Drip is packed with automation features that are beneficial for a variety of businesses, particularly ecommerce.
Drip also offers a 14-day free trial, with pricing starting at $49 for up to 2,500 subscribers with unlimited email sends.
Topol
Topol may be one of the lesser-known email service providers, but offers a pretty straightforward email builder that includes seven pre-designed email templates in addition to a "from scratch" design option.
Topol does have a free version, but their paid plan begins at $7 per month. You even have the option to test the waters with a 14-day trial before committing.
Email Design Dos and Don'ts
From laying the groundwork of selecting the right topics, to producing the graphics and design, creating an email can be a long and grueling process. Here are a few dos and don'ts to help you get certain elements right and avoid common drawbacks:
DO target subscribers based on where they are in the buyer's journey. This is a fairly easy step, especially if you're already utilizing marketing automation software.
DON'T be afraid of taking some risks with bold colors and images if it fits your brand. Color has the power to influence a reader's moods and actions.
DO keep the writing lighter and more readable. The font you use needs to be clean and the margins should be narrow enough to direct readers' eyes downward.
DON'T use the same layout, copy, and graphics for every campaign. You should be strategic with each email.
DO include a branded header graphic, along with one feature image, not including smaller thumbnails or social icons.
DON'T use background photos. If they're not loading properly, they could negatively affect how your email is perceived by the recipient. You should also steer clear of using too many graphics all together.
Examples of Killer Email Design Templates
Whether you're a marketing legend or a complete beginner, it's always a good idea to take some cues from the best-looking email campaigns in order to improve your own methods. Below, we've compiled a list of some incredible email marketing campaign examples to give you an added boost of inspiration.
Airbnb
Why it Works: Right off the bat, notice the personalized greeting? And the design itself has everything you need – fresh colors, simple design, and minimal copy.
Airbnb typically does a great job of keeping their emails straightforward with a clear call to action. And notice the CTAs at the bottom enticing the user to get back into booking? They're prominent, yet don't detract from the email's core message.
Tock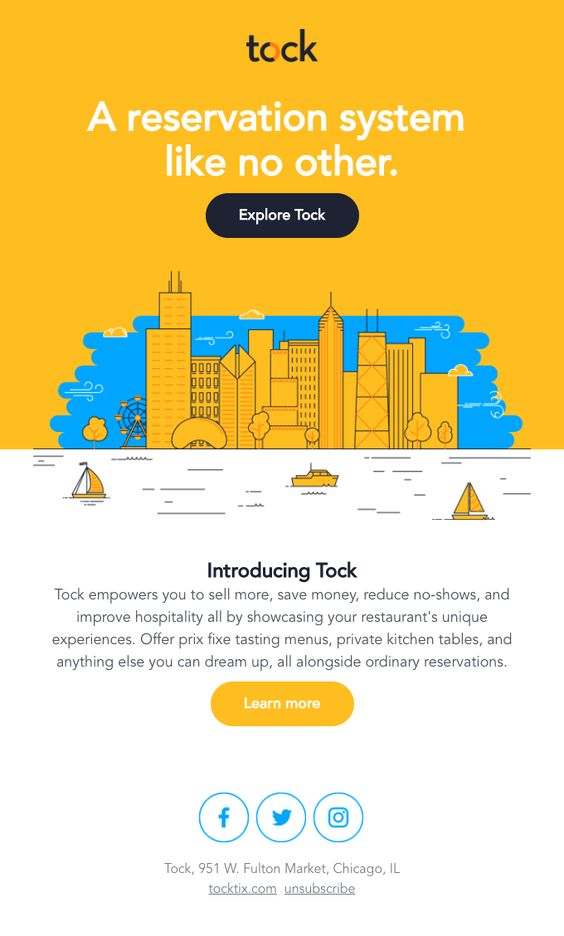 Why it Works: Contrasting colors like yellow and blue instantly grabs your attention. And in this case, they coincidentally are Tock's brand colors. The center of the email features a simple illustration of the city to showcase the bustling nature of metropolitan areas and their surrounding restaurants.
Another great thing that Tock does here is matching the color of the "Learn more" button and social media icons to their brand's colors, which reinforces the consistency of their messaging.
Sephora
Why it Works: While Sephora typically experiments with unique compositions, they're not afraid of white space. The black and white headlines throughout the page, the striped wrapping paper at the top, and the open cosmetics containers playfully directs your eyes down towards the product information and special offer below. Notice the small pops of color surrounding the words "New at Sephora" and the placement of the "Shop Now Button."
Crew
Why it Works: Never underestimate the impact that one high definition image can have on your campaign. This email template by J. Crew features almost no copy because it doesn't need to. All of your attention goes directly to the ice cream cone. And the headline perfectly complements the curiosity of customers with an uncomplicated actionable statement—"This is worth the scroll." Once you complete the task of scrolling, the call to action is simply "Go."
Zendesk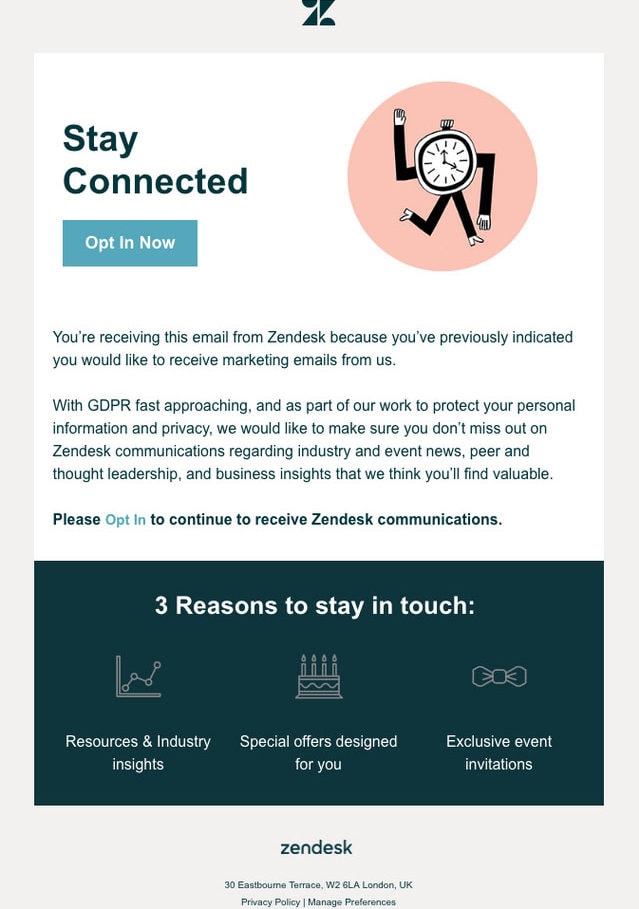 Why it Works: Zendesk did something pretty original here—they essentially created a mini landing page showcasing their brand. The content is broken up into several paragraphs, with the first explaining the goal of the email followed by reasons to stay. The infographic at the bottom of the page is not only concise but still manages to include essential information and not to mention, is visually-appealing.
The Bottom Line
Like everything else, email design trends will come and go. It's easy to start working on an email campaign that follows the popular styles of the moment, only to discover later was yet another fleeting fad.
However, you can rest easy knowing that the best practices we've outlined in this guide maintain the focus on the end-user. What lay at the heart of truly powerful email design is personalization, credibility, and a seamless user experience.
Happy designing!