In this post, our Senior Social Media Manager, Erin Romine, breaks down 5 ways to boost your social media engagement today! Social media engagement is one of the best ways to promote your business online. It helps you generate buzz, build brand-name awareness, and keeps you connected to your customers.
However, many strategists fail to generate engagements – leaving their social presence stale, inactive, and without a dedicated following.
In this article, we'll go over 5 ways you can boost your social engagement starting right now.
Ask Your Audience a Question
What's one thing you wish you had that would make your life easier when it comes to digital marketing?
Do you see how that question prompted you to think for a bit? That's what good questions do.
Now, imagine if you read that question from a key influencer on a social media site? What would you do?
If you're like most of that person's followers, you'd probably ponder it and then offer up an answer online. If you've been in digital marketing for a while, you might even be able to answer it immediately.
In either case, you're generating engagement.
Asking a question is an especially good engagement strategy thanks to human nature. People love to tell you what they think.
Of course, once people have answered the question, the engagement doesn't have to stop there. You can re-engage with your audience by providing comments on their answers!
Afterward, audience members might respond in turn and before you know it you have a conversation going.
Of course, other people will jump in as well and then your 2-way conversation becomes a group conversation. That's what you're looking for.
Asking the right question is an excellent engagement strategy that works best on Facebook, Twitter, Instagram, and LinkedIn.
"This" or "That" Posts
Another great way to engage with people in your target market is to bring them on as unpaid consultants.
And yes, they'll be happy to help.
How? Post an image of two different options that you're contemplating and ask your followers to tell you which one they think is the best.
Again, people love to chime in with their opinions so you shouldn't have any problems with this strategy.
Also, the "this" or "that" strategy is yet another great opportunity to get a discussion started. That's because people will go back and forth about why they think the alternative they chose is the best.
This engagement strategy works best on just about any social media channel. On most of them, ask people to put their opinion in the comments. On Twitter, just ask them to reply to your tweet.
Conduct a Poll or Survey
If you want to get people engaged on one or more of your social media profiles, conduct a poll or survey.
It's easy. Just ask a question like: "Who do you think will win the Super Bowl?" Then list as options the two teams playing in the Super Bowl.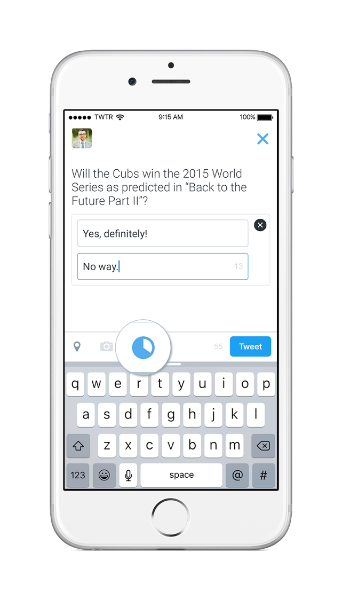 Anything like that will work, but it's especially effective if you ask a question related to your line of work. For example: "Which aspect of digital marketing do you find the most challenging?" Then list a few options.It's a good idea to stay away from politics or religion when conducting surveys, though. Those kinds of discussions can often lead to fights.
Fortunately, social media sites Facebook and Twitter make it very easy to conduct polls. No third-party software is required.
Hold a Contest
What's a great way to draw a crowd? Offer to give something away for free.
That's why you should hold a contest on social media. Unlike polls, though, you'll probably have to enlist the aid of a third-party service if you really want your contest to take off.
Yes, that will cost money. However, it's difficult to overstate how much you can grow your audience with a great contest.
Contests have the potential to go viral.
Companies that specialize in online contests include Gleam, RealTimeMedia, WooBox, WishPond, and Rafflecopter. Reach out to sales reps from any one of those companies for questions you have about the kind of contest that's best for your brand.
Always Have a Call to Action
Are you wondering why nobody responded to your latest Facebook post?
Did you ask anyone to reply to your latest Facebook post?
If not, then you should consider it an undeserved favor whenever somebody responds. The reality is that if you want people to take action, you should issue a call to action.
For example: if you want to increase traffic on your site, offer a bright, beautiful button labeled "Click Here to Learn More."
If you want to increase engagement, just ask people for their thoughts on what you just posted or how they would respond to a similar situation.
It's really this simple: your followers will often do what you ask them to do. If you want them to engage with you on social media, ask them to do just that.
The call-to-action strategy is a must for all social media channels.
Engagement is the first step to create a relationship with your audience. Get creative and test different engagement methods and strategies to discover what generates the most interaction, and you'll have a dedicated following in no time.
Erin Romine:
Erin Romine is the Senior Social Media Manager at Ignite Visibility with vast experience in the digital marketing and public relations space. She has worked on numerous accounts in an eclectic blend of industries, assisting clients define their digital goals and creating custom strategies to achieve them.