In today's social media-driven world, things change fast.
To stay in the game, you need to keep up with current social media trends and evolving consumer expectations.
If you're ready to upgrade your current social strategy, Ignite Visibility's  Social Media Manager Sarah Ali will break down the top 6 social media trends that you should consider implementing in 2021 and beyond.
What We'll Cover:
Instagram Stories
In a recent study, it was found that more than 500 million people use Instagram Stories every day. With an audience this large, it's no wonder 51% of brands are already taking advantage of this disappearing Story feature.
Similar to Snapchat, Instagram Stories stay live for 24 hours and allow users to share what's happening in the moment without clogging their feed with additional images and videos. Stories also provide a unique opportunity to ask followers questions, have followers ask you questions, create polls, share videos, music, and more.
There is so much that your brand can do with the Instagram Story concept that we recommend creating a social strategy just for this type of content (whenever applicable).
Not only can you use it to flex your creative muscles, but Stories also provide endless possibilities to improve your brand's visibility using real-time marketing. That's half the commitment of a regular social post with all of the fun. It's no wonder we are seeing channels like Twitter, Pinterest, and LinkedIn mimic this approach on their own platforms.
Instagram Reels
If Instagram Reels aren't on your business's radar, it may be time to rethink your social media strategy.
Launched in 2019, Reels is a feature that lets you create short-form 15-second, multi-clip videos. With Reels, you can:
Add songs from the Instagram music library
Add hashtags
Use original audio
Add filters or other effects
Increase or reduce the speed of your video
Select a cover image
Add captions on the screen
Tag other Instagram accounts
Instagram Reels is one of those social media trends that uses a proven, highly addictive formula designed to attract and engage Instagram users. Its concept is modeled after TikTok, which boasts 800 million users worldwide and has become the go-to platform for influencers and brands in 2021.
According to tech expert John Holdridge, it returns "us all to roots of the original appeal [of social media] – the ability to go viral."
The Rise of Clubhouse and Other Audio Apps
When it comes to current social media trends, most people think of services like Facebook, Twitter, and Instagram. But Clubhouse has managed to stand out as one of the most unique platform releases in recent memory.
This invite-only chat app enables you to connect with like-minded individuals that you wouldn't ordinarily have the chance to meet in person or on social media.
What's great about Clubhouse is that it can be enjoyed throughout the day. Whether you're in the office or on the go, users can tune in to hear their favorite people speak with other subject matter experts..
This is a great opportunity for industry leaders to make a name for themselves, build a connection with their followers, and find new ways to engage with others on a more personal level.
Clubhouse's increase in popularity could be attributed to the rise of audio apps, which research analyst Jeremiah Owyang describes as the '"Goldilocks" medium for the 2020s: "Text is not enough, and video is too much; social audio is just right. It represents the opportunity for social connection and empathy without the downsides of video."
Snapchat and Instagram AR Filters
AR applications have been around for well over a decade, garnering massive public attention when Snapchat released its AR-based Snap Filters and in 2016 with the popular mobile game Pokemon Go.
Since then, Instagram launched its Spark AR studio, which allows anyone to create and share their own filters.
But what makes AR filters one of the fastest-growing social media trends of 2021?
For one, users don't need to download another app to use the feature. They can apply computer-generated effects directly to their faces from within Snapchat and Instagram.
The face-tracking technology helps the smartphone camera monitor a wide range of facial features in real-time, which makes for a variety of enjoyable interactive experiences. Plus, you can save the filtered images to your camera roll for years to come.
Although this type of social feature isn't for every brand, if you do utilize this type of content, make sure it's fun, engaging, and shareable.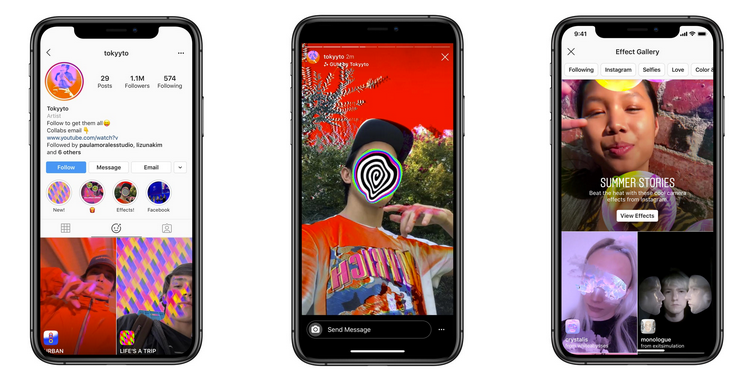 Shopping on Social
While shopping on social media isn't always a walk in the park, it has transformed the way we interact with these platforms on a daily basis.  Users can now complete their entire purchase process without leaving their preferred apps.
Pinterest has found a way to make shopping easier for consumers to discover new products and shop for goods that are similar to the image with just a swipe of the finger. Not only does this change the way users experience the app, but it also gives businesses an easy way to feature their products.
According to Pinterest, 95% of the top searches on the platform don't reference a specific brand. This means that the shopping experience is driven by a broadened search for a particular product, making the platform an even playing field for companies everywhere. Rather than feeling bogged down by sponsored posts and ads, users are willingly shopping for products they want.
Video Content
Video is a great storytelling tool, generating 1200% more shares than both images and text combined.
Whether it's short-form videos like those most popular on TikTok or long-form content on YouTube, it's safe to say that video isn't just one of those fleeting social media trends, but the future of content marketing.
According to a Cisco study, by 2022, over 80% of all online content will be made up of video content. This clearly illustrates the importance of utilizing video to stay relevant in the social media sphere.
If you're not currently creating videos, it is time to start including them in your content strategy. In addition to humanizing your brand, video significantly helps improve conversion rates.
Wrapping Up
Social media trends not only change the way we use certain platforms, but go as far as to change the way we communicate, shop, learn, and even the way we see ourselves.
And despite the emerging competition, tech behemoths like Facebook and Instagram probably aren't going anywhere anytime soon.
The use of social media is projected to remain on an upward trajectory in the coming years, which means that companies should continue to seek new ways to tailor their social media strategy around the changes that these apps roll out.