If you're a marketer, it's probably safe to say you're familiar with the benefits AdWords.
But what about AdWords ad extensions?
This guide will walk you through all the different types of extensions, as well as why and how you should be using them.
What are AdWords Ad Extensions?
In a nutshell, ad extensions add additional information to your ads.
Normal text ads include your headlines, a short description and URL. But extensions allow advertisers to include more useful information like contact information, customer reviews and ratings, call buttons, etc.  
Who should use them? Just about everyone, according to Google.
How Do AdWords Ad Extensions Improve Your Ad Performance
With extensions, ads gain more prominent listing and often perform better because of it – which means more eyes on your ad and a higher ROI.
"By adding more content to your ad, extensions give your ad greater visibility and prominence on the search results page. That means you tend to get more value from your ad. Extensions often increase your total number of clicks, and can give people additional, interactive ways of reaching you—as with maps or calls."
In fact, Google reports that adding an extension can improve your CTR by 10-15%.
And, when it's all said and done, this extra advertising requires very little from you.
You choose the ones you think will work best, and Google will show the best performing combinations to display.
Manual AdWords Extensions Vs. Automated AdWords Extensions
AdWords extensions are separated into two categories: manual and automatic.
Manual extensions are ones you choose and set up yourself. Automatic extensions are predicted by Google based on which extensions might improve your ad's performance. These, naturally, are set up automatically and require no extra work from the advertiser.
Automatic extensions pull information from your website, whereas you fill in the information for manual extensions.
Factors That Affect Your AdWords Extensions
Here's the thing. Even though everyone has access to extensions, it doesn't necessarily mean they'll show up.
Whether or not they show depend on a number of factors, including:
Ad rank – a minimum Ad Rank score is required for extensions to show. To meet it, you may have to increase your bid or ad quality

Position of your ad – higher ad position = higher likelihood your extensions will show. Google notes, "the AdWords system generally won't allow ads in lower positions to get more incremental clicks from extensions than the incremental clicks they'd get from moving up to a higher position." So if you need a higher position, you may have to pay for it with higher bids amounts.

Other extensions – Google will show you your highest performing combination of extensions, but you will not be able to get a combo of extensions that gets a higher click-through rate (CTR) than the expected CTR of an and in a higher position.
In a nutshell, your extensions are used at Google's discretion, and your bid amount and ad quality factor in quite a bit.
While I do recommend enabling any extensions you might find helpful, keep in mind that they will be most beneficial to those with already-high ad positions.
For tips on how to make your extensions more likely to show, click here.
Manual AdWords Ad Extensions
First, let's cover all your manual extension options.
As you get started with extensions, Google recommends the following best practices:
Use every extension relevant to your business

Try adding 4 or more extensions (Google has found that ads with more than one extension perform better than those with just one)

Create extensions at higher account levels, if applicable
To set up your extensions, go to the ad extensions tab in your campaign manager.
There, you have the option to create extensions at the account, campaign and ad group levels.
Location Extensions
Use these if you want people to buy from a physical location.
Location Extensions
Location extensions are pretty straightforward: they show searchers your business information.
You can include your business location, hours, photos, directions, etc.
Additionally, you can input a clickable "call" button, and show users the distance to your physical location from where they are.
Pictures of your storefront can also be used.
These are of course most useful for any business with a brick-and-mortar store trying to attract foot traffic.
Location extensions can be shown on the Google Search Network, Google partner sites, Google Display Network and YouTube Video Ads.
Affiliate Location Extensions
This extension shows nearby stores that sell your product (think retail chain stores).
So, if you're a retailer selling through chains, this extension will help customers find stores closest to them that carry your product.
When someone searches for a product similar to yours on Google, your ad will pull up with the closest affiliate store listed. It will appear either as an address or a map (and if they're using a mobile device, they can click on the address to pull directions).
Note: these are only available for retail chains in select countries.
Contact Extensions
Use these if you want customers or leads to contact you.
Call Extensions
Call extensions are simple, but effective. They allow you to add your phone number to your ad, and give mobile users the option to click to call.
Keep in mind that AdWords may set up automated call extensions if you've indicated getting customers to call you as a business goal.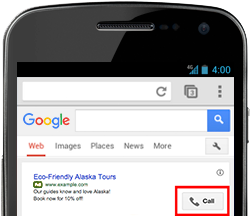 Google also notes that the extension is the best way to include a contact number in your ad; placing a phone number in ad text is against Google policy and will result in the ad being disapproved.
This is one extension where scheduling is particularly important. You'll want to schedule the extension to only show during business hours when someone is able to answer the phone.
Message Extensions
Like call extensions, message extensions allow people to contact your business directly, only this time via text message.
Again, AdWords may do this automatically if they deem it one of your business goals.
If you choose the message extensions and someone clicks on it, they will be taken to their text message app with a pre-filled message (that you've already created).  
These will be particularly handy for businesses that have text capabilities without someone dedicated to answering the phone, or have flexible hours.
Conversion Extensions
Use these if you want to direct traffic to your website.
Sitelink Extensions
Sitelink extensions are additional links you can add that direct customers to a specific page of your site.
When someone clicks on the link, they're taken directly to that page. It could be contact information, services, store hours, etc.
Sitelinks will appear on one to two lines below your ad (depending on which device is being used), and show as text rather than URLs.
You can include 2 to 6 sitelinks, which can sometimes also include short descriptions.
The benefits here are pretty obvious: more links back to your site, meaning increased opportunities for clicks.
Structured Snippet Extensions
Structured snippets are used to highlight specifics about your product or service. These are non-clickable snippets that show at the bottom of your ad with a header and list of features.
For example, you might see an ad with "Service Catalog: SEO, PPC, Social Media Management."
Your headers will be chosen from a list, which includes categories like brands, destinations, types, etc. For a full list click here.
Using them will help promote any unique or important details about your business.
Price Extensions
Price extensions show a list of your products or services with their prices, allowing customers to browse your catalog without visiting your site to do so.
They show up as a set of up to 8 clickable "cards" below your text ad.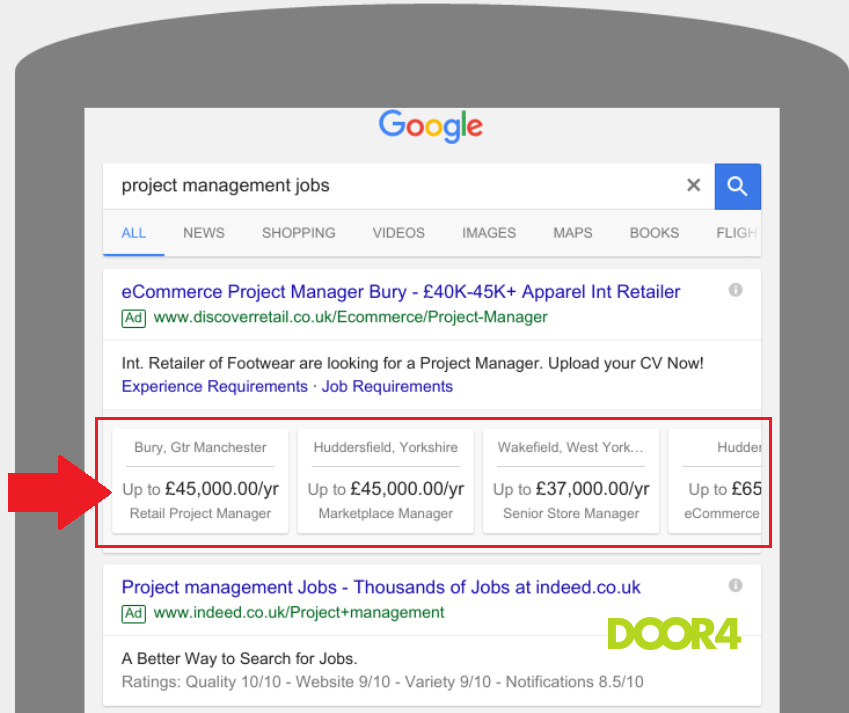 Google uses the example of a hairdresser. If they were to use the price extensions, their cards would consist of services like "haircut," "full color," "partial color," etc. with the prices next to each item.
If someone clicked on one of the services, it would take them directly to the corresponding page on your site.
These can be updated whenever you would like to promote any new services or deals.
Review Extensions
With review extensions, you can add in reviews of your product or service from third-party sites.
Google recently announced that they will be removing review extensions in mid-January 2018, and any existing review extensions will be deleted in early February.
Callout Extensions
Callout extensions are generally used to point out additional product features or business highlights.
For example, you could include a snippet like "free delivery" or "open 24 hours" to draw attention to unique, beneficial features. They can also be used to highlight special offers and promotions.
Advertisers are able to change the text of their callouts at any time, meaning you can easily update or include relevant information without rewriting your original ad text.
AdWords allows 2 to 6 callouts, which appear below your ad text.
App Extensions
Use this if you want people to download your app.
App Extension
App extensions allow you to link an ad to your app download.
The link will appear below your text ad and direct people directly to your app download. It's compatible with both Android and iOS – though only will appear at a time. Google will detect which store to use based on the user's device.
Automatic Extensions
Now we'll get into automatic extensions.
Remember, these are added automatically by AdWords unless you choose not to have them do so.
If you do to choose to disable any, Google walks you through the process here.
Dynamic Sitelinks
Like manual sitelink extensions, these are additional links included at the bottom of our text ad.
They're different in that instead of you choosing which links and pages to showcase, they instead pull links related to a search question.
If you do use manual sitelinks, they will override any automatic sitelinks Google pulls.
While it's beneficial in that it offers additional information about your product and links to your site, some may be more comfortable the links themselves in a manual extension.
Dynamic Callouts
These callouts again list a snippet of text under your ad that highlights any special or unique features.
Instead of you choosing the snippet, Google pulls information that it finds relevant to include instead. They would then be pulled from existing copy on your home or landing page.
As with other automatic extensions, you can override the dynamic callout by adding in your own manual callout extension.
Dynamic Structured Snippets
These also pull small snippets to highlight product features, but it does in a category fashion.
Google pulls these categories it finds on your site relevant to specific search queries. So, if you list your marketing services on your homepage and somewhat types in a related search, AdWords will auto-populate the section with the services listed on your site.
Seller Ratings
Seller ratings show reviews for product or service based on a star system.
The reviews are pulled from "reputable sources that aggregate business reviews."
The stars work on a 1-5 system. Obviously, these will be beneficial if you have consistently high reviews and show that you offer customers a quality experience and product.
Previous Visits
This extension shows a searcher if and when they last visited your site.
Google notes, "to see previous visits, people have to be logged in to Google and clicked through to your website at least once from a previous Google search result, or twice from a Google search ad."
The extension is intended to improve CTR by showing a searcher that they have already visited a site, making them more likely to do so again.
Consumer Ratings
Consumer Ratings AdWords extension shows industry-specific ratings based on consumer surveys.
These do not use a star rating, and are shown instead on a scale of 1 to 10.
One or more of your best surveys will be shown, with a link to other surveys included.
Measure Your AdWords Extension Performance
AdWords offers performance information on all of the extensions used in a given campaign.
You can access the information through the "Ad Extensions" tab on your account page.
Here, you'll be able to see if the extensions are showing in your ads, and if they're working.
Depending on the extensions you use, you can go in individually to see if they're getting the desired calls, clicks, downloads, messages, etc.
To navigate, simply:
Log into your account

Click on the Campaigns tab

Click the Ad Extensions tab

Click on the View dropdown and choose the extension you'd like to measure

Select "All Campaigns" to see stats across all campaigns, or select the individual campaign
If you want to make sure your extensions are showing, you'll use the Ad Preview and Diagnosis Tool.
As always, if you find that your AdWords extensions aren't performing as well as you'd hoped, test a few changes.
Use a new extension, or change the links or language in your existing ones.
Get Started With AdWords Ad Extensions
Extensions are an easy and valuable way to add more relevant information to your ad – and encourage more click-throughs.