If you're a marketer, it's probably safe to say you're familiar with the benefits of Google Ads.
But what about Google Ads extensions?
This guide will walk you through all the different types of extensions, as well as why and how you should be using them to grow your business.
What We'll Cover:
What Are Google Ads Extensions?
The internet is an endless universe of information. With over 5.47 billion active internet users and nearly 200 million active websites on the web, companies now have advertising opportunities that have never been seen before.
You want to be sure that your ad doesn't get lost in the void.
You want your ad to be visible to the right people who will buy your product or service.
In order to do this, you need to optimize your ads by taking advantage of extensions.
In a nutshell, ad extensions give additional information to your ads.
Normal text ads include your headlines, a short description and URL. Ad extensions allow advertisers to include more useful information like contact information, customer reviews and ratings, call buttons, etc.
Who should use Google Ad Extensions? Just about everyone, according to Google.

How Do Google Ad Extensions Improve Your Ad Performance?
With extensions, ads gain more prominent listing and often perform better because of it – which means more eyes on your ad and a higher ROI.
Google explains: "Ad extensions give people more information about your business and make it easier to engage with your ads. In fact, advertisers can see a 20% increase in click-through rate on average when 4 sitelinks show with their Search ads."
And, when it's all said and done, this extra advertising requires very little from you.
You choose the ad extensions you think will work best, and Google will show the best-performing combinations to display.
Factors That Affect Your Extensions
Here's the thing. Even though everyone has access to extensions, it doesn't necessarily mean they'll show up.
Whether or not they show depends on a number of factors, including:
Ad Rank – A minimum Ad Rank score is required for extensions to show. To meet it, you may have to increase your bid or ad quality
Position of Your Ad – A higher ad position = a higher likelihood that your extensions will show. Google notes, "The system generally won't allow ads in lower positions to get more incremental clicks from extensions than the incremental clicks they'd get from moving up to a higher position." So if you need a higher position, you may have to pay for it with higher bid amounts.
Other Ad Extensions – Google will show you the highest performing combination of extensions, but you will not be able to get a combo of extensions that gets a higher click-through rate (CTR) than the expected CTR of an and in a higher position.
In a nutshell, your extensions are used at Google's discretion, and your bid amount and ad quality factor in quite a bit.
While I do recommend enabling any type of ad extensions that you might find helpful, keep in mind that they will be most beneficial to those with already-high ad positions.
For tips from Google on how to make your extensions more likely to show, click here.
Manual Extensions Vs. Automated Extensions
Extensions are separated into two categories: manual vs automatic extensions.
Manual Extensions
Put simply, manual extensions are ones you choose and set up yourself. These particular extensions are under your direct control and origination. Examples encompass sitelinks, callouts, structured snippets, and price extensions. Notably, you retain the authority to determine their timing and placement while also having the ability to tailor their content and presentation to align with your preferences.
Take a brick-and-mortar store always answering calls about promotions. Instead, use dynamic snippets or sitelinks to provide details about the sale, saving time and letting customers engage directly. Plus, setting them up is quick since Google's data isn't needed. You're in charge of the conversion goal too, like phone calls or app downloads, giving you more control.
Automatic Extensions
Automatic extensions are predicted by Google based on which extensions might improve your ad's performance. These, naturally, are set up automatically and require no extra work from the advertiser and include things like seller ratings, dynamic sitelinks, and location extensions. While these extensions can't be directly modified or deleted, there's an option to opt out of certain ones if needed.
Essentially, automatic extensions pull information from your website, whereas you fill in the information for manual extensions.
Manual Google Ads Extensions
If you're trying to compare manual vs automatic extensions, let's dive in a little deeper.
First, let's cover all your manual extension options.
As you get started with extensions, Google recommends the following best practices:
Use every extension relevant to your business
Try adding 4 or more extensions (Google has found that ads with more than one extension perform better than those with just one)
Create extensions at higher account levels, if applicable
To set up your manual extensions, go to the Google Ads extensions tab in your campaign manager.
There, you have the option to create extensions at the account, campaign and ad group levels.
Location Extensions
Let's talk more about the different types of extensions.
First, there are location extensions. Use these if you want people to buy from a physical place or physical location.
1. Location Extensions
Location extensions are pretty straightforward: they show searchers your business information.
You can include your business location, hours, photos, directions, etc.
Additionally, you can input a clickable "call" button, and show users the distance to your physical location from where they are.
Pictures of your storefront can also be used.
These are of course most useful for any business with a brick-and-mortar store trying to attract foot traffic.
Location for Google Ad extensions can be shown on the Google Search Network, Google partner sites, Google Display Network and YouTube Video Ads.
2. Affiliate Location Extensions
This ad extension shows nearby stores that sell your product (think retail chain stores).
So, if you're a retailer selling through chains, this extension will help customers find stores closest to them that have your product in stock.
When someone searches for a product similar to yours on Google, your ad will pull up with the closest affiliate store listed. It will appear either as an address or a map (and if they're using a mobile device, they can click on the address to pull up directions).
Note: these are only available for retail chains in select countries.
Contact Extensions
When looking at the different types of extensions, contact extensions are crucial.
Use these if you want customers or leads to get in touch with you.
1. Call Extensions
Call extensions are simple but effective. They allow you to add your phone number to the ad and give mobile users the option to click-to-call.
Keep in mind that Google Ads may set up automated call extensions if you've indicated getting customers to call you as a business goal.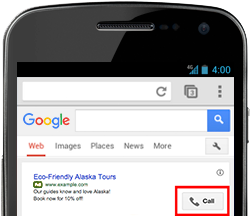 Google also notes that the ad extension is the best way to include a contact number in your ad; placing a phone number in ad text is against Google policy and will result in the ad being disapproved.
This is one extension where scheduling is particularly important. You'll want to schedule the extension to only show during business hours when someone is able to answer the phone.
Conversion Extensions
Conversion extensions should be used if you want to direct more traffic to your website.
1. Sitelink Extensions
Sitelink extensions are really handy as they help guide visitors to different sections of your website. Instead of only going to your main page, users can pick where they want to go. 
This user-friendly feature enhances your click-through rate by helping people find what they need faster. Popular choices for sitelinks are Contact Us, pricing, sales, and testimonials pages. 
If you're going to use a site link extension, there are a few things to keep in mind.
Keep it short and simple.
Schedule "start" and "stop" dates for time-sensitive ads.
Check on your links periodically to ensure they are working properly.
Be sure to stick to Google Ads policies and guidelines.
Avoid redundancy and repetitiveness by creating interesting and engaging advertisements.
When you see ads on Google search results, you might notice sitelinks at the top and bottom. To get these, you'll need at least 2 for desktop and 1 for mobile. 
Depending on where your ad appears, there's a difference: On a desktop, you can have up to 6 sitelinks, arranged in 1 or 2 lines.
 For mobile, it's up to 8 sitelinks in a cool carousel style. If your ad is at the very top, it'll be prominently displayed with one sitelink per line.
2. Structured Snippet Extensions
Structured snippets are used to highlight specifics about your product or service. These are non-clickable snippets that show at the bottom of your ad extension with a header and list of features.
For example, you might see an ad with "Service Catalog: SEO, PPC, Social Media Management."
Your headers will be chosen from a list, which includes categories like brands, destinations, types, etc. For a full list click here.
Using structured snippets will help promote any unique or important details about your brand that might attract more customers.
3. Price Extensions
Price extensions are a great tool that enables you to clearly outline costs from the get-go, promoting transparency and fostering trust with potential customers. 
This clarity empowers users with better information, increasing the likelihood of them making a purchase when they visit your website. 
These extensions are particularly valuable for businesses with flexible pricing, those marketing service bundles, or featuring a diverse range of products.
4. Callout Extensions
Callout extensions are generally used to point out additional product features or business highlights.
For example, you could use this extension to include a snippet like "free delivery" or "open 24 hours" to draw attention to unique, beneficial features.
Advertisers are able to change the text of their callouts at any time, meaning you can easily update or include relevant information without rewriting your original ad text.
Google Ads allows 2 to 6 callouts, which appear below your ad text.
5. Promotion Extensions
Promotion extensions allow you to use your ad to highlight any sales or promotions you have going on.
This ad extension can display 2 lines of information text at the bottom of the ad along with a price tag icon. When a user clicks on it, they will be sent to the special offer landing page to complete their order.
App Extensions
Use app extensions if you want people to download your app.
This extension allows you to link an ad to your app download.

The link will appear below your text ad and direct people directly to your app download. 

This feature is compatible with both Android and iOS. Google will detect which store to use based on the user's device, and the ad will only appear in one form.
Image Extensions
This Google Ads extension, aptly named, serves to display an image beneath your ad. You can upload 1×1 square images up to 5120 KB in size to complement your ad copy.
Businesses with visually appealing offerings can gain from image extensions. However, Google has specific criteria: your account must be open for 90 days, show policy compliance, run active campaigns (including month-long Search ads), and avoid sensitive verticals like adult content, alcohol, gambling, or healthcare.
When creating image extensions, adhere to best practices outlined by Google. Ensure images meet Google Ads' quality standards; avoid logo/text overlays, GIFs, and low-quality images.
In essence, aim for clear, high-quality photos rather than refined graphics or logos.
Lead Form Extensions
These extensions enable your audience to conveniently complete forms directly within your ad, eliminating the need to navigate to a separate landing page.
However, implementing this Google Ad extension requires comprehensive steps. These include agreeing to Google's Terms of Service, formulating relevant questions, designing a completion message, selecting a call to action, and determining how to manage lead tracking and export.
Be ready to invest a few minutes in the initial setup to ensure alignment with your preferences. You can optimize lead forms by minimizing the number of fields to prevent form abandonment. Lastly, ensure a functional CRM system is in place to facilitate lead export, tracking, and nurturing.
Automatic Google Ads Extensions
If you are still wondering how manual extensions are different from automatic extensions, we're almost to the finish line.
In the debate of manual extensions vs automatic extensions, now we'll get into automatic extensions.
Remember, these are added automatically by Google Ads unless you choose not to have them do so.
If you do choose to disable automatic extensions, Google will walk you through the process here.
1. Dynamic Sitelinks for Automatic Extensions
Like manual sitelink extensions, these are additional links included at the bottom of our text ad.
They're different in that instead of you choosing which links and pages to showcase, they instead pull links related to a search question.
If you do use manual sitelinks, they will override any automatic sitelinks Google pulls.
While it's beneficial in that it offers additional information about your product and links to your site, some may be more comfortable creating the links themselves in a manual extension.
2. Dynamic Callouts for Automatic Extensions
These callouts for automatic extensions are similar to the manual ones in that they again list a snippet of text under your ad that highlights any special or unique features.
However, instead of you choosing the snippet, Google pulls information that it finds relevant and uses it. The information would then be pulled from the existing copy on your home or landing page.
As with other automatic extensions, you can override the dynamic callout by adding in your own manual callout extension.
3. Dynamic Structured Snippets for Automatic Extensions
These also pull small snippets to highlight product features, but it does this in the travel category.
Google pulls these categories it finds on your site relevant to specific search queries.
So, if you list your marketing services on your homepage and someone types in a related search, Google Ads will auto-populate the section with the services listed on your site.
4. Seller Ratings
Seller ratings for automatic extensions are used for product or service based on a star system.
The reviews are pulled from "reputable sources that aggregate business reviews."
The stars work on a 1-5 system. Obviously, these will be beneficial if you have consistently high reviews and show that you offer customers a quality experience and product.
5. Previous Visits for Automatic Extensions
This extension shows a searcher if and when they last visited your site.
Google notes, "to see previous visits, people have to be logged in to Google and clicked through to your website at least once from a previous Google search result, or twice from a Google search ad."
The extension is intended to improve CTR by showing a searcher that they have already visited a site, making them more likely to do so again.
6. Consumer Ratings for Automatic Extensions
Consumer Ratings extension shows industry-specific ratings based on consumer surveys.
These do not use a star rating, and they are shown instead on a scale of 1 to 10.
One or more of your best surveys will be displayed with a link to other surveys included.
How to Measure Your Google Ads Extension Performance
AdWords offers performance information on all of the ad extensions used in a given campaign.
You can access the information through the "Ad Extensions" tab on your account page.
Here, you'll be able to see if the extensions are showing in your ads, and if they're working.
Depending on the extensions you use, you can go in individually to see if they're getting the desired calls, clicks, downloads, messages, etc.
To navigate, simply:
Log into your account
Click on the Campaigns tab
Click the Ad Extensions tab
Click on the View dropdown and choose the extension you'd like to measure
Select "All Campaigns" to see stats across all campaigns, or select the individual campaign
If you want to make sure your extensions are showing, you'll use the Ad Preview and Diagnosis Tool.
As always, if you find that your extensions aren't performing as well as you'd hoped, test a few changes.
Use a new extension, or change the links or language in your existing ones.
FAQs About Google Ads Extensions
1. What are Google ad extensions?
Ad extensions are extra bits of information you can add to your Google AdWords ads. They make your ads more engaging and informative, providing potential customers with additional details about your business, products, or services.
2. Should I use manual or automatic extensions for my ads?
It depends on your preference. Manual extensions give you more control over which specific links appear with your ad. Automatic AdWord extensions, on the other hand, are generated by Google based on your website's content. Choose the method that aligns with your advertising goals and management style.
3. What's the benefit of having my ad at the top position for sitelinks?
When your ad holds the top spot, your sitelinks gain prominence. They're shown in a distinct row, with each sitelink occupying its own line. This format enhances visibility and user engagement.

Ready to Take Your Google Ads Extensions to The Next Level?
Ignite Visibility has a team of expert digital marketing professionals. We leverage the power of paid ads to help businesses drive targeted traffic and achieve their marketing goals. Our expert strategists work closely with clients to understand their unique needs and design customized PPC campaigns that maximize return on investment. Whether it's using manual extensions or automatic extensions in Google ads, we will handle every aspect of Google ads to ensure our clients receive optimal results.
Want to learn more about our pay-per-click management services?