In this article, we'll cover the basics and benefits of Facebook Lifetime Value Custom Audiences and Value-Based Lookalike Audiences.
What We'll Cover:
Over the last few days, Facebook has unveiled and updated a set of new tools designed to connect you with better potential customers, meaning better business and better long term ROI.
Facebook Value Optimization
In 2017, Facebook introduced its Value Optimization tool, which includes the Facebook Lifetime Value feature. It works with the Facebook Pixel, an analytics tool that helps you measure the effectiveness of your LTV Facebook ads. It's designed to consider users' buying behavior and based on that, identify which users are most likely to make a purchase from you.
Facebook explains:
"Value optimization works by using the purchase values sent from the Facebook pixel to estimate how much a person may spend with your business over a seven-day period. The ad's bid is then automatically adjusted based on this estimation, allowing campaigns to deliver ads to people likely to spend more with your business at a low cost."
Ultimately, this will eliminate much of the cost traditionally associated with finding and advertising to not only the correct audience, but those most likely to become high-value customers. Not only that, but advertisers stand to see a greater ROI by targeting those customers specifically.
Facebook Lifetime Value: The Facebook Audience Evolution
Facebook's other tool is a Value-Based Custom Audience, an addition to its existing Lookalike Audience. The Lookalike Audience is Facebook's unique way of reaching new people who are similar to your existing customers, and therefore more likely to be interested in your business.
The audiences are based on one of the following, according to Facebook:
Custom Audiences: Upload a list of your existing customers using Custom Audiences. Then use Lookalike Audiences to find people that resemble that audience.

Website visitors: Install a Facebook pixel on your site. Then create Lookalike Audiences based on people who have visited specific pages on your website.

Page fans: Use Lookalike Audiences to create an audience based on people that like your page.
Rather than creating a new audience, the Facebook Lifetime Value Custom Audience simply adds another column of data to one of your existing audiences.
It's important to note that the new value-based feature only works with the Custom Audience option, therefore requiring you to upload your own list.
First, What Exactly is Customer Lifetime Value?
Before we get to the benefits of the Facebook Lifetime Value, we need to cover the basics of Customer Lifetime Value (CLV). CLV is the net value you expect to derive from your entire relationship with a customer.
The Customer Lifetime Value Facebook feature breaks down value by a few major factors:
How often a customer makes a purchase within a typical purchase cycle

How much a customer spends each time they make a purchase

How much you project a customer will spend over the duration of your relationship with them

The potential of a customer's relationship with you
Someone with a high CLV is, in short, one of your best customers. They are likely to make multiple purchases and therefore produce high revenue for you. Conversely, someone who makes a single purchase would have a much shorter relationship with you, and a drastically lower CLV.
So, with the Facebook Lifetime Value tool, the platform knows which customers you perceive to have a high CLV. The customer value Facebook assigns to those people will be relatively high.
Similarly, Facebook can focus on finding users with similar interests and activities to those target customers and promote your campaigns to them.
Facebook Lifetime Value: Why is Customer Lifetime Value Important, and How Do I Calculate It?
Because it will save you time, energy, and money. It will make your company more profitable and help you determine the ideal customers to focus your marketing and sales efforts on.
The parameters for calculating Customer Lifetime Value on Facebook will be different depending on your business or industry, and the potential drawback in the Facebook Lifetime Value audience is that it doesn't calculate lifetime value for you; rather, to use the ad features, you will need to provide Facebook with your own customer list with a column for each customer's lifetime value.
In other words, the customer lifetime value Facebook uses will be provided by you.
Either way, before you begin calculating the customer value Facebook will use and employing Facebook's ad campaigns, you'll need to take a look at your current customers and business goals. Who are your most valuable customers, and what makes them so valuable? How could you track this?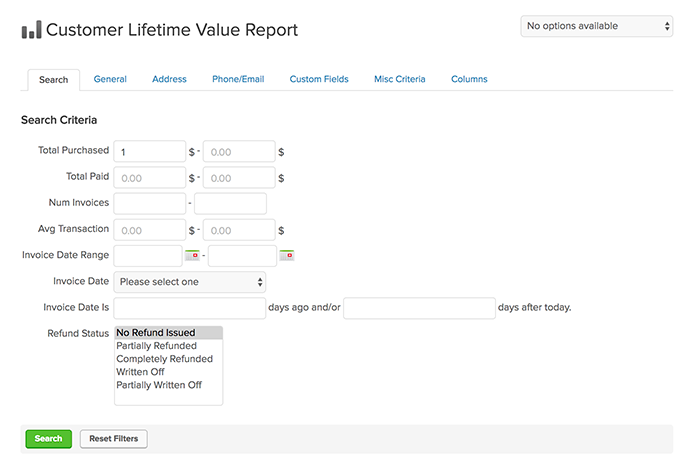 Then, ask yourself how much these customers typically spend, how often they make purchases and how long you think the relationship is likely to last.
That's the customer value Facebook is looking for. And the answers you provide will help you form what metrics you should use to calculate your Customer Lifetime Value, and is worth investing some time in to make sure your results are as accurate as possible. Again, a little more work upfront will go a long way in the end.
Setting Up Your Audience
Once you've compiled your CLV file, you're ready to create your Facebook Lifetime Value Audience. Remember, Value-Based audiences are different than regular Lookalike Audiences because your file includes a specific data field for Customer Lifetime Value Facebook will use.
If you already have a Custom Audience set up, you can simply add the CLV data to the existing audience. If not, you'll need to first create a Custom Audience.
To get started with your LTV Facebook ads, go to the Audience section of your Ads Manager. If you have an audience, you'll select which Custom Audience to use. Or, click Create Audience and select "Add customers with a current and predictive value attached".
When prompted, select Customer File that includes the lifetime value Facebook will use. Facebook has included an optional template here that you can download to set up your data more easily. If the feature is available to you, you will then have the option to select "Customer file with lifetime value (LTV)".
At the Customer File stage, you will be asked to select one or more customer identifiers. These are demographic data such as age, gender, location and email that the Facebook Lifetime Value feature uses to match you with customers. It suggests using as many identifiers as possible as columns in your file to produce better results.
You will also be asked to include a column with a range of customer values. Once at that stage, Facebook offers a few pointers and best practices to help you get better performing lookalikes.
The remaining steps will help create your Lookalike audience, and you'll be prompted through the edit data mapping, upload and creation, and create a lookalike stages.
How does Lifetime Value Improve Your Audience Performance?
So how does Facebook Customer Value improve your overall performance and ROI? According to Facebook:
"When you include LTV in your customer file and create a lookalike, our system uses LTV to find people similar to your highest value customers. It works best when you provide the full range of customer values, as opposed to only the top cut of customers."
As we discussed earlier, when using your Lifetime Value Audience Facebook will target those customers with similar characteristics to those who have already proven to be of high value. By connecting you with better potential customers, you'll ultimately get better business and better long term ROI. Not only are these users more likely to do business with you, but they're also more likely to provide a high LTV, meaning repeat business.
How To Measure and Test Success
Facebook does a good job of breaking this down for you as well.
It recommends using Facebook Lifetime Value for events that happen down the marketing funnel (ex. purchases) and long term business goals like Return on Advertising Spending (ROAS).
It also states that initially, your cost per result may be higher than usual, but they recommend evaluating performance over a longer period of time. Ultimately, if your lookalike audience is performing well you should see an improvement in ROAS.
Remember: the Lifetime Value Audience Facebook uses isn't a magic bullet. You'll always have to test your effort and make sure that you're getting a positive ROI.
The difference with the Facebook Lifetime Value strategy versus other strategies, though, is that you're typically playing the long game. You're looking to snag new lifetime customers over time.
But once you get those customers, the waiting period will be well worth it. Those are the folks who will help you take your business to the next level.
Often, they end up becoming brand evangelists. And then you get more business because of their referrals.
Another thing: it almost always costs more money to attract new customers than it does to market to existing customers. That's why lifetime customers are worth their weight in gold.
They're people who trust your brand. They're familiar with your products or services. They may even know you personally.
So when you pitch a new offering to them, they're usually among the first to bite. Heck, you might even find that some of them are willing to do product testing for you. For free.
That's why it's generally a great idea to put aside some of your marketing dollars to go after lifetime customers. They'll help you stay cash flow positive.
Get Started With Facebook Lifetime Value
Now that we've broken down the basics of the new Lifetime Value features — and if the feature is available to you — it's your turn.
Remember, the success of your Value Based Lookalike Audience lies with your CLV calculations, so spend some time making sure your data is an accurate reflection of your customers and their habits.
Once you've made your file with as many identifiers as you like (including, of course, CLV), you're ready to create your Lookalike audience.
Both new features are designed to help maximize your profit while minimizing your up-front cost, and connect you with quality customers that will prove to have a high value. They are each potentially significant, and if they can deliver the desired results could prove an extremely valuable addition to Facebook ad campaigns.
Sound interesting? Then give these new Lifetime Value tools a try.