Google for Jobs has big implications for websites in this sector. On one level it could hurt market share and on another level, if they leverage Google for Jobs correctly, it will result in more traffic.
The phrase "Just Google it" now applies to jobs.
The company announced its new Google For Jobs feature at May's annual I/0 for software developers. The new search feature sorts and collects millions of job listings from all over the web to simplify the process for job seekers.
With this unveiling, Google ultimately hopes to bridge the gap between matching available candidates with the right jobs.
The Google Jobs Evolution
It began with the Cloud Jobs API.
In November 2016, Google announced the new technology, designed to make it easier for companies to find more relevant candidates for their job listings.
According to Google, the API "uses machine learning to understand how job titles and skills relate to one another and what job content, location, and seniority are the closest match to a jobseeker's preferences."
The API was originally intended for job boards, career sites, and applicant tracking systems, and was designed to address the gaps between job titles, job descriptions and desired skills.
At May's I/0, Google CEO Sundar Pichai listed Johnson & Johnson as an example of the API's success, reporting that on its career site "applicants were 18% more likely to apply to a job (using the API), suggesting the matching is working more efficiently."
The API is accessed through Google Cloud, and can be purchased by companies to help them recruit better candidates on their job boards and websites.  
So far, over 4.5 million people have interacted with the API.
But Google didn't stop there.
What is Google For Jobs?
Google for Jobs combines the Cloud Jobs API with its powerful search engine features and puts it in the hands of job seekers.
It's Google's own job search, and the tech giant's answer to sites like Monster and Glassdoor.
Traditional job recruitment sites rely on advanced algorithms to match job seekers with jobs in their area of interest.
But many seekers still start with Google.
Which is why the organization opted to create its own ultra job search query that allows users to search through multiple job recruitment sites at once.
Google partnered with sites like CareerBuilder, LinkedIn, Monster, Facebook, Glassdoor and more to populate the new feature and increase job matching efficiency.
Why Google For Jobs Works
Google is all about connecting people with the most relevant information.
Turns out, their approach to the job search is no different.  
By working with major job sites like Monster and Careerbuilder, Google allows users to see job listings from these sites and others as soon as they're posted, while eliminating any duplicates.
That means no more checking multiple sites or scouring papers. Just Google it.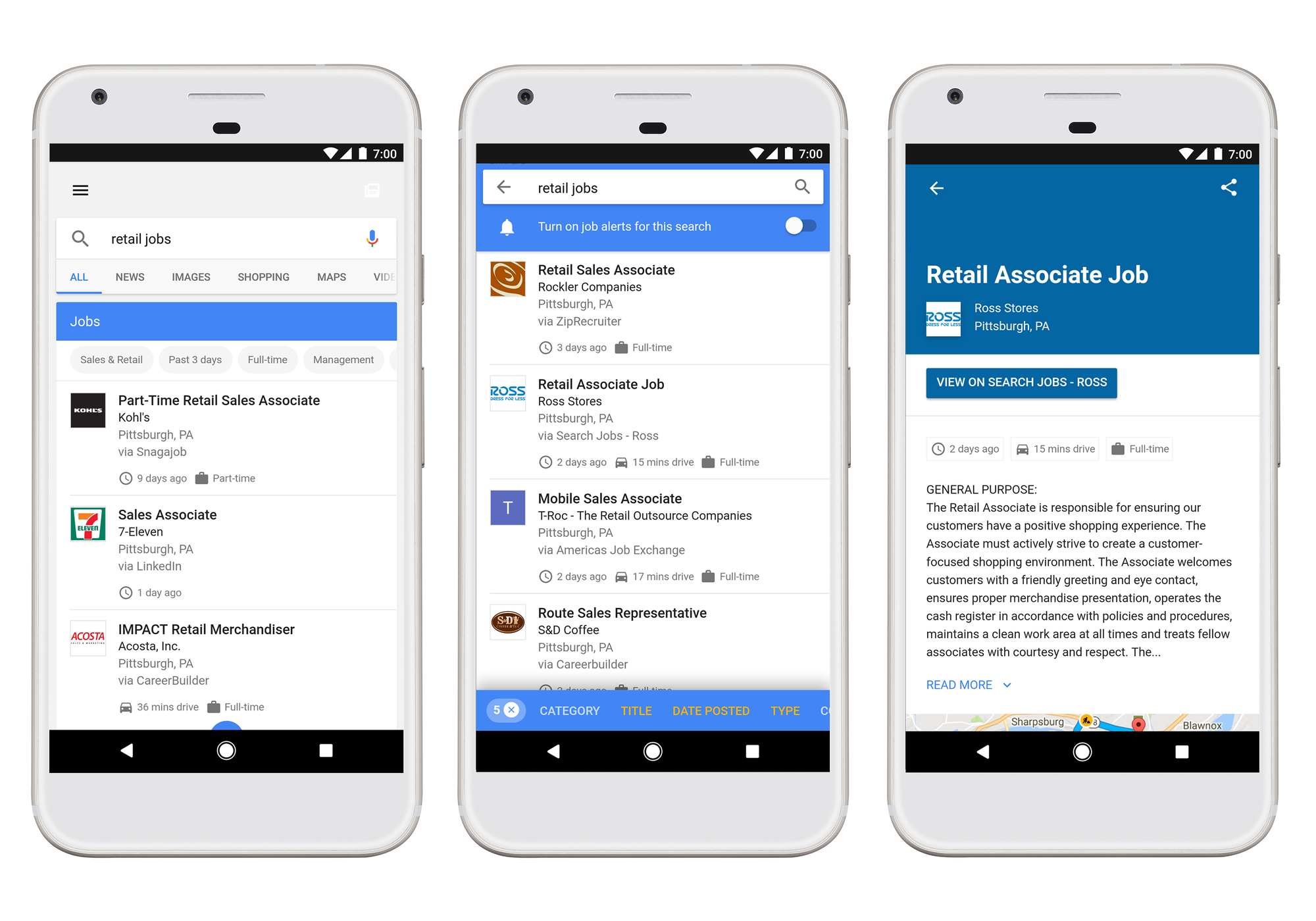 Job searches have been notoriously hard for search engines to list due to the vast number of keywords and descriptions used to describe job details and titles.
Google hopes to alleviate the problem with its AI and expertise in the search industry.
Pichai notes, "we worked hard to include jobs across experience and wage levels, including jobs that have traditionally been much harder to search and classify. Think retail jobs, hospitality jobs, et cetera."
Because a retail job can include anything from store manager to store clerk, Google uses its AI to classify jobs and match patterns, supplying job seekers with more accurate results.
Google also allows you to stay up-to-date on your search with its alert system. Turning on alerts for a saved search alerts Google to email you when new jobs arrive that meet your designated criteria.
How Google For Jobs Works
It's as easy as a Google search.
First, launch Google and type in "jobs." A blue-bordered "Jobs" box will appear with a few sample entries. Click the more jobs arrow to pull more results.
Narrow down your results by adding more words to your search. For example, "retail jobs."
Once you've entered the Google For Jobs screen, a scroll bar will appear on your left with all possible matches, including when the job was posted and if it's full or part time. Click on any to expand.
The description box for each listing includes a full job description, and underneath any available position reviews from sites like Glassdoor and Career Bliss.
Google's advanced filters are located on the top scroll bar. They allows you to sort by category, title, city, date posted, type, company type and employer.
So, if you're searching for "retail jobs," you can narrow your options in the category filter by sales & retail, management, customer service, admin & office, etc.
Or you can search by job title by choosing the title filter and selecting anything from hourly associate to retail management or security officer.
The job type filter lets you specify if you're looking for full-time, part-time, contractor or internship position.
If you know the particular industry you'd like to work in, the company type filter will provide options like manufacturing, textiles and apparel, wholesale, computer services and more.
All of these filters work to streamline your search and provide you with the job openings that most closely match your ideal position.
So if you know that you're looking for a retail job, specifically a customer service position at a computer store with an hourly wage, you can search for those exact parameters.
If you don't know the particular industry in mind, you can narrow your search by location. Simply type in "jobs near me" or "jobs in irvine, ca" to pull a range of jobs in your desired locale.
Each post includes a direct link to the company or listing site where job seekers can apply to the open position.
Bonus filter: Google has announced its intention to include a commute filter, so job seekers can search based on the seldom-addressed but very important commute time factor.
Google Jobs for Employers
The new feature doesn't just benefit job seekers. Employers are finding it easier to match qualified applicants as well.
A reported 46% of U.S. employers face talent shortages and have trouble filling open positions with qualified candidates. (The Keyword)
Google's answer to the problem began with the Cloud Jobs API, and now continues with Google For Jobs.
The tech giant recently opened up its jobs feature to all developers and site owners, noting the following benefits to employers in its blog:
Prominent place in Search results:

your postings are eligible to be displayed in the in the new job search feature on Google, featuring your logo, reviews, ratings, and job details.

More, motivated applicants:

job seekers can filter by various criteria like location or job title, meaning you're more likely to get applicants who are looking exactly for that job.

Increased chances of discovery and conversion:

job seekers will have a new avenue to interact with your postings and click through to your site.
Get Listed on Google
To get your job listings to rank higher in Google job searches, the company has released comprehensive information on what exactly developers need to do.  
It's a two step process:
Mark up your listings with Job Posting structured data
Submit a sitemap (or RSS or Atom feed) with a <lastmod> date for each listing.
If you have more than 100,000 job postings or more than 10,000 changes per day, you can apply to use the "high change rate" form here.
And if all that sounds like gibberish to you, Google has published a helpful guide to understanding the posting process, located here, as well as released an FAQ to address common questions
Google also includes a Structured Data Testing tool, which allows users to validate their markup and preview their listing.
If you need help setting this up for your website, contact us here.
To optimize the experience, users will be able to track the success of their job listings. In the coming weeks Google promised to include a job listings feature in the Search Analytics report in the Search console so users can track clicks and impressions of their listings.
Key Takeaways
Below are a few of the feature highlights:
Google now streamlines the job search process, including (but not duplicating) results from most major job recruitment sites

Using their AI, Google has made it easier for job seekers to match with ideal positions by eliminating some of the confusion between job titles, duties and descriptions

Users have more job filter options with Google than with traditional job boards, allowing them to better find a job fit

Developers and site owners can optimize job listings using Google's process, allowing their postings to surface higher in the jobs search feature
If you are a job site, get on Google For Jobs fast.